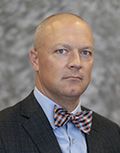 Charles Timmons
Dean for Enrollment Management
Desk Phone: 765-361-6054
Mobile/Text Phone: 765-307-5129
Hometown
Frankfort, IN
Graduate of
Wabash College, Class of 1996
Major
English
About me
I graduated from Wabash in 1996 and have worked in the Enrollment Office for 25 years. I've been married to my wife, Stephanie, for 22 years and am the proud father of two sons, Landon, Wabash '26, and Drake (16). In addition to assisting students with their college searches this year, I will help guide my oldest son through his own college search. When I'm not on campus or on the road looking for the best and brightest students, I can be found on the water or the golf course.
Tips for high school seniors
Too often students narrow their list of schools based solely upon a major or specific program and forget that part of going to college is living on that campus for 4 years. Make sure you place equal emphasis on the consumption benefits (what you will experience during those 4 years on campus) and the investment benefits (the opportunities available to you with that degree in your hands).
Read. Read. Read. Just like you train your body for an athletic competition, you need to train your mind for the amount of reading you'll have to complete during the academic year. In high school, you're in class 8 hours/day, but in college, you'll be in class 10-12 hours/week. Professors will expect you to get more done between classes. Start training NOW.
What makes Wabash special
It's our people. Everyone at Wabash College works to ensure that our students are educated to think critically, act responsibly, lead effectively and live humanely.
Territory
Indiana - Montgomery, Tippecanoe Counties
All Transfer Students
Wabash College
Admissions Office
410 West Wabash Avenue
Crawfordsville, IN 47933-0352
1-800-345-5385
1-765-361-6225
email: admissions@wabash.edu