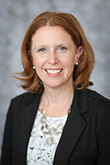 Julia Wells
Associate Director of Admissions
Desk Phone: 765-361-6016
Mobile/Text Phone: 765-307-5124
Hometown
Fort Wayne, IN
Graduate of
Indiana University (B.A.), George Washington University (M.A.)
Major
Spanish, Latin American Studies
About me
I love to learn new things by meeting new people. After growing up in Fort Wayne, I wanted to experience the world and I have since traveled to 4 continents. But, whether it's a new friend from around the world or my neighbor here in Crawfordsville, I enjoy hearing about others' experiences and learning from them.
Tips for high school seniors
Take advantage of the college search process. Don't just go to school where all your friends and family are going to school. Check out good options FOR YOU. Tour schools, attend visit days, and ask good questions. Find a place that fits the unique you. Remember, you can always see your friends during weekends or holiday/semester breaks. Consider doing something different, something that interests you.
What makes Wabash special
So many things. I was impressed the moment we moved here in 2015 (when my husband started his faculty position at Wabash). For a small school, it has big qualities- beautiful campus, remarkable facilities, hands-on research and internship opportunities, connections with alumni for mentorship, and a challenging curriculum that will prepare you for your future.
Territory
Indiana - Boone, Carroll, Cass, Clay, Montgomery, Putnam, Sullivan, Vigo Counties
Washington D.C., Delaware, Maryland, North Carolina, South Carolina, Virginia
All Transfer Students
Wabash College Admissions Office
410 West Wabash Avenue
Crawfordsville, IN 47933-0352
1-800-345-5385
1-765-361-6225
email: admissions@wabash.edu