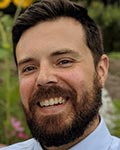 Chris Dixon
Senior Assistant Director of International Admissions
Desk Phone: 765-361-6041
Mobile/Text Phone: 765-307-5087
Hometown
Cicero, IN
Graduate of
B.A. University of Indianapolis, M.B.A. Butler University, M.S. Indiana University
Major
International Relations & Spanish; Business; Business Analytics
About me
Originally from Cicero, Indiana, I moved to Indianapolis, Indiana for college and for my first years as a young professional. While in school, I studied abroad three times (China, Mexico, and Argentina!) and found my passion for international education (IE); a field I have been working in for over 12 years! During my time in IE, I have been lucky enough to travel the world! I recently moved back to Cicero with my wife, Andrea, son, Santiago (2.5 yrs), a German Shepherd named Sasha, a Chihuahua named Luna, and a cat named Estrella. In our free time we love to travel, go hiking, camping, kayaking, and to concerts. In my free time I enjoy riding motorcycles as much as possible!
Tips for high school seniors
It's never too early to start your college search! Be sure to visit each campus you are considering as each one definitely has its own feel and you may find one that makes your decision that much easier. If you cannot physically visit a college, see if they offer a virtual visit that you attend! Also, try not to only consider schools your friends are going to; be sure to really think about what you want out of a college experience and what you want for yourself once you graduate.
What makes Wabash special
The students, faculty and staff are easily one of the best aspects at Wabash. You will truly feel like you found your home away from home, all while gaining a tremendous education and college experience.
Territory
All International
Wabash College
Admissions Office
410 West Wabash Avenue
Crawfordsville, IN 47933-0352
1-800-345-5385
1-765-361-6225
email: admissions@wabash.edu