The Wabash Democracy and Public Discourse Direct Admit program is a competitively selected program designed for incoming freshmen interested in leadership, community engagement, and free speech. This program will provide students a cohort experience throughout their freshmen year.
Students from all majors can participate. Selected students will have exclusive opportunities to participate in professional development and service. Students will strengthen skills in public communication, facilitative and strategic leadership, critical thinking, and public outreach.
There is no cost to this program; accepted students are expected to participate in all aspects of the program.
Opportunities for WDPD Direct Admit students
Exclusive. Public Leadership Experience: Direct Admit students engage with leaders from government, business, nonprofits, and industry in a small setting, and focus on developing their own leadership skills.
Guaranteed. Civic Engagement. Direct Admit students are guaranteed participation in civic engagement opportunities through Wabash Democracy and Public Discourse.
Reserved. RHE290 Deliberation: Students in the Direct Admit program are reserved a spot in the Rhetoric Department course RHE290 Deliberation & Democracy, a course focusing on strategic leadership, public problem-solving, and facilitation. Students who take RHE290 are eligible to apply for the Democracy Fellows program.
Words from WDPD Alumni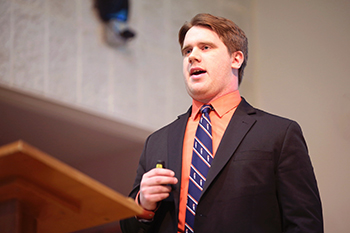 Benjamin Johnson, Wabash '18
enFocus Innovation Fellow, South Bend
"The work you do in WDPD is important. We are the bridge between government officials and their constituents, community leaders and the citizens they serve. Essentially, our projects give voices to the people who feel silenced."