Oberlin scored on four long pass plays Saturday effectively knocking Wabash College (7-1, 4-2) out of the NCAC Championship and NCAA Playoffs picture, 31-16.
The loss came on a bitterly cold and damp Senior Day in Crawfordsville.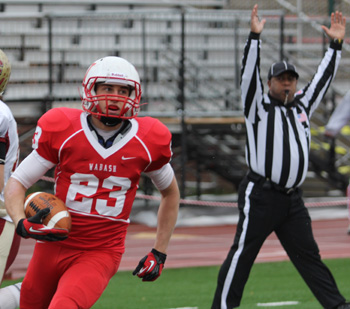 Yeoman quarterback Josh Mandel was masterful hitting on 22 of 40 passes for 353 yards and four touchdowns. He was not sacked in the game. He threw scores from 12, 66, 47, and 52 yards against the Little Giant defense. But the biggest TD toss was, perhaps, one he didn't throw.
Oberlin (4-5, 3-3) was clinging to a 12-10 lead in the third period and took advantage of the Little Giants aggressiveness against the screen pass. Mandel threw laterally to receiver Robin Witjes who then heaved the ball downfield to a wide open David Kalgren for a 50 yard score, 19-10.
"We played poorly in all phases," Coach Erik Raeburn said. "Obviously, it's the worst game we've had defensively all season. It was right up there with our worst one offensively. It was just completely disappointing in every way."
Wabash got on the board midway through the first period when Chase Belton his Sean Hildebrand for 26 yards and the score. But Oberlin responded with a second quarter TD and missed extra point, 7-6, and that's how it stood at the half.
Wabash was able to drive deep into Oberlin territory on several occasions in both halves but had trouble getting a first down or converting on the field goal. After two earlier misses, Brock Smith hit one early in the third period from 33 yards to push the Wabash lead to 10-6 but it was all Yeoman after that.
Mandel hit Witjes for a 66-yard bomb and then five minutes later Witjes connected on his screen lateral pass for a 19-10 Yeoman lead. It was barely five minutes again before Mandel hit Weintraub for his second score of the game, a 47-yard for 25-10.
Houston Hodges made a beautiful end zone catch of a Belton 15 yard toss to pull Wabash to 16-25 but Oberlin responded. It again it was a bomb of 52 yards for the final.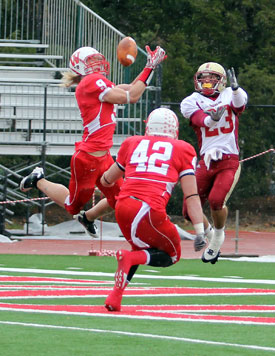 The glaring statistic was the Yeoman's 403 yards passing to the Little Giants' 257. Oberlin averaged 17.5 yards a catch. Oberlin managed just 29 yards rushing, but Moses Richardson had just enough at times to keep the Wabash defense off balance.
Witjes and Weintraub each had seven catches for 165 and 129 yards, respectively.
Tyler Holmes was dominant on the ground again for Wabash carrying the ball 30 times for 151 yards. Belton hit on 19 of 35 passes for 257 yards, three interceptions late, two touchdowns, and was sacked by the Oberlin line four times.
Hildebrand had six catches for 95 yards.
Pat Clegg had 8 stops to lead the Little Giants. Nate Scola added 7 tackles with Cody Buresh and AJ Akinribade each recording six tackles.
The Little Giants will have to lick their wounds and gear up quickly for the 119th Monon Bell clash next week at home against DePauw.