HANOVER, In. – A game featuring 15 penalties will always be called ugly but there is no such thing as a pretty loss. Instead, Wabash College's Little Giants will take Saturday's ugly win, 33-12, at Hanover.
"Clearly the penalties killed us, offensively and defensively," Coach Erik Raeburn said. "I think we had 400 yards of penalties, probably not quite that bad but I'd guess we're leading the nation in penalty yards."
The fifth-year coach had reason to be unhappy after watching his Little Giants get whistled for 15 penalties and 152 yards. But he also had reason to be pleased with a defense that played well in the first half and responded to a challenge in the second. The game also featured a bright showing by several newcomers.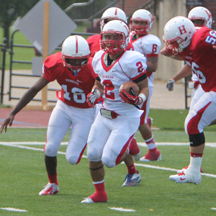 A game of great plays, personal fouls, and missed opportunities swung in the fourth quarter after the host Panthers pulled to within a touchdown with just under nine minutes to play. Colton Zeck caught a two-yard pass from Dexter Britt to give the Panthers hope of an upset.
The hosts couldn't execute the ensuing on-side kick attempt setting up Wabash with a short field. Quarterback Chase Belton completed a 17-yard pass to freshman Eddie Cmehil and then another to running back Troy Meyers for 17 more. Meyers carried three times for 24 more yards.
Sean Hildebrand then caught a short Belton pass and fought his way across the goal line for a 7-yard score, 26-12. The junior receiver had six catches for 77 yards and finds himself in a leadership role this season.
"I was nervous because it was the first game of the year," Hildebrand said. "It felt good getting back out here; it was really nothing too different than other years. What I really wanted to do was help the younger guys and get them comfortable."
Wabash quickly put the game away after Hildebrand's touchdown with a defensive score on the following Panther possession. Austin Hodges returned an interception 39 yards for the final score.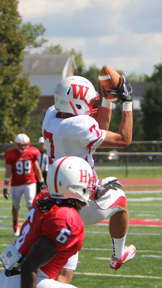 "That one was kind of thrown right to me," Hodges said of his second pick of the day. He called the pick a stress reliever. "I was getting nervous it was 16-9 or whatever it was but until that play I was nervous out there."
Despite the ebb and flow to follow, Wabash opened strong scoring on its first possession. Junior college transfer Jon Laird had an immediate impact catching two passes, the second an 18-yard score.
"It was huge for the first game to put a drive together and get a score," Laird said. "The fact it happened be me who scored was cool. I'm glad to be here."
Laird's debut was impressive, leading the Little Giants with seven catches for 94 yards. "Since I stepped on campus it's been one of the greatest experiences of my life," he said. "I was telling someone else over here that this program and this school are just the perfect fit for me. This coaching staff and the players … we all just bond. 'Other people say come to our program, it's a family' but if you come to Wabash you bond and it really is a family. It's awesome that I'm here, contributing and playing with a bunch of great guys."
Wabash got back on the scoreboard on an Ian MacDougall 36-yard field goal, 9-0. Hanover's Pre-Season All-American Daniel Passaflume scored on a 10-yard catch to make it 9-6. Then former defensive back and now wide receiver Andrew Gibson made a nice move and found himself wide open for a 49-yard pass and run to put Wabash up 16-9.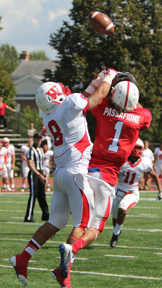 The only other points of the contest came on MacDougall's second field goal, a 36-yarder, 19-6, early in the fourth quarter. "I have my faith in God and I have my faith I'll get a good snap from Alex Hirsch, a good hold from Cam Sobleski and if they do their job I just have to do mine."
Wabash did generate 356 yards of total offense, most from the passing game's 327. Hanover mustered just 11 yards rushing and 211 passing. Belton hit on 25 of 32 passes for 327 yards and three scores. Meyers rushed for 43 yards on nine carries. Jonathan Koop led Wabash with 12 tackles. A.J. Akrinbade had nine tackles and an interception. Pat Clegg and Nate Scola added seven and six stops, respectively.
Wabash (1-0) will open NCAC play Saturday at Denison.