The whole of the liberal arts joined Friday to celebrate outstanding works of student-driven research with scientists, rhetoricians and artists all supporting each other, where Wabash College hosted the 15th annual Celebration of Student Research, Scholarship, and Creative Work.
A total of 106 students participated in 105 presentations, featuring oral reports, posters, and exhibits, during the three-hour event.
Process was essential in the presentations, no matter the discipline, especially when the Detchon Center doors were opened to students, faculty, staff, members of the Board of Trustees, Board of Directors of the National Association of Wabash Men, and the general public.
Lu Hong '16, who gave presentations in chemistry and psychology, spoke of the benefits of showcasing his research efforts and improving his presentation skills.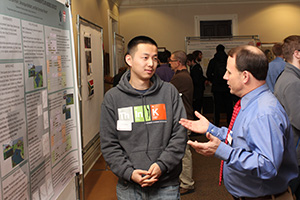 "It's really an excellent opportunity to showcase the kind of work we've done, and generally, to improve your ability and performance in communicating with your audience," he said. "It's a matter of trying to reflect on your work and find what is interesting; and what is the main point of your study and communicating that to a broader audience. That is the main challenge. If I do that, then it's a successful presentation."
Aren Peterson '16, a part of two separate biology presentations, also saw the benefits of sharing his educational experiences with others.
"It's cool to explain some of this really captivating stuff to people," said Peterson, a native of Indianapolis. "Biology is fascinating, so being able to express that to others is very worthwhile. Sharing what we've done with professors is an interesting experience. You feel like you are in serious higher education circles to a certain degree."
Theater major Joe Mount '15 saw value in the fact that all divisions from the sciences to languages to the arts all share the same space and importance. It's a chance to showcase the best of what the College offers.
"It's an incredible opportunity, not just for students who are presenting, but for everyone else to observe the work that is being done here," Mount said. "There are some great things coming out of all parts of this campus. Being at a place like this where we can show the seriousness and the work that goes into the arts is great. It's really important, and it's incredible to be a part of."
While the Celebration is the end point for many research pursuits, Hong feels that is an enjoyable step in his college experience.
"It's pretty remarkable how the faculty has the patience to guide the students and be generous with their time and give us the opportunity to flourish in this environment," Hong said. "I really enjoy talking with professors and other students about my work. I've gained a lot of experience from this process."