Wabash's defense created opportunities to upset defending national champion Wisconsin-Whitewater. The Little Giant offense couldn't capitalize in a 38-14 second-round defeat.
"We had some opportunities and we squandered them," Coach Erik Raeburn said. "Ultimately, it cost us.".
The Little Giants forced Whitewater into a season-high three turnovers and trailed by three at halftime. However, 94 first-half yards including just four completed passes for 18 yards holding Whitewater to a 10-7 edge.
Ethan Buresh '17 scored Wabash's lone first-half touchdown when he scooped up a blocked field goal and returned it 79 yards.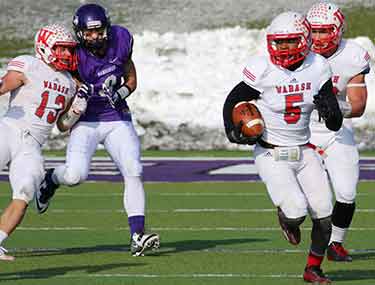 "It was a big game changer I thought," Ethan said. "We were down and weren't getting anything on offense or defense. Our team felt like we could win the game after that."
Wabash looked like it might take the lead early in the third quarter. Warhawk All-American quarterback Matt Behrendt threw his second interception of the day when Houston Hodges '15 caught a deflected pass at the Warhawk 23. Again, though, the offense failed to produce points.
"We were inconsistent on offense, period," Raeburn said. "Our only good drive of the first half, we fumbled down in the red zone. We had a great opportunity to start the second half and couldn't convert."
Whitewater showed its championship form in the second half. After a Wabash turnover, Behrendt found his All-American receiver Jake Kumerow from 18. On the next Whitewater series, Behrendt connected with Justin Howard from 46 yards for the 24-7 lead.
"The offensive line did a great job today," Behrendt said. "Wabash blitzes a lot and does a lot of things defensively. Their defense was one of the best we played all year. They cause a lot of problems and move a lot."
Whitewater's offensive line helped push the team to 180 yards rushing. Dennis Moore led the way with 107 while Jordan Ratliffe had 68.
"You could see that their size was obviously going to help them," defensive end Cody Buresh '15 said. "We're a smaller defensive line and are quicker as a unit."
After another Howard touchdown, defensive back Brady Grayvold sealed the win with a 34-yard interception return. Grayvold jumped the bubble pass and had an easy run to the end zone.
"We had a plan if a receiver motioned like that," Grayvold said. "The safety called it as soon as he crossed the quarterback so I just kind of took a chance."
Wabash scored its second touchdown late in the fourth on a Mason Zurek one-yard run. Zurek finished with 77 yards on 18 carries.
Safeties Eddie Cmehil '16 and Austin Brown '17 topped the Little Giants in tackles with 13 and 11, respectively. AJ Akinribade '15 had nine tackles and the defense's only sack.
Behrendt threw for 299 yards and four touchdowns with two interceptions. Behrendt had only thrown two picks all year entering the game. Howard had six catches for 126 yards and three scores.
"The advantage of playing against a team like Whitewater is that you get to measure yourself and see where your weaknesses lie," Raeburn said. "Hopefully our young guys will use that as a springboard into the offseason workouts and next season."