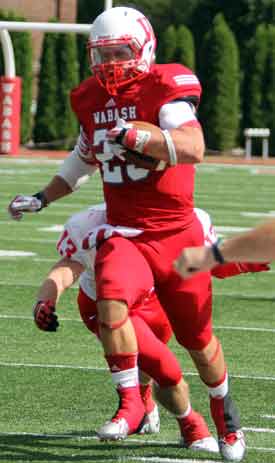 Wabash dominated for the second consecutive week, defeating Denison 50-13. However, the Little Giants suffered a major loss when Tyler Holmes tore his right ACL in the second quarter.
"Football is a great game, but it is physical and you always have guys go down," Coach Erik Raeburn said. "It's not a question of if guys are going to get injured, it's a question of who. We tell the backups all the time 'You're a play away from having to go in there and perform with the game on the line.' Hopefully those young guys will be ready to roll and pick up where Holmes left off."
Holmes earned first-team All-Conference honors last year leading the NCAC with 1,067 yards. He had 104-yards rushing and a touchdown before Saturday's injury.
Wabash started the scoring with special teams, just as it did in last week. The Big Red punt returner Colin Morris muffed a booming Cam Sobleski kick that Justin Woods eventually recovered for a touchdown.
Ian McDougall kicked a 27-yard field goal, then Holmes and Michael Putko rushed for touchdowns. The rout had begun, 23-0.

"We started off with a lot of mental errors and they came out with a few different looks we weren't expecting," Putko said. "But we made our adjustments and got everybody settled down. For example, their linebacker shot underneath a route we thought would be open."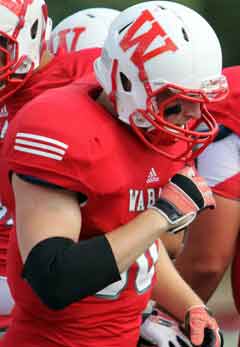 Holmes' backup Mason Zurek '16 added a scoring dive for a 30-0 halftime lead.
One of the game's key sequences occurred early in the second quarter. A high snap sailed over Putko's head and pinned the Little Giants on their own 15, leading to a third-and-28. The safe play would have been to throw a short pass and punt, but Putko rifled the ball over the middle to Jon Laird for 25 yards. On the next play, Putko completed a short pass to Houston Hodges who turned up field and gained 17 on a fourth-and-three.
"We practiced it all week and I knew if I saw a certain (defensive) look, I was going to go [to Laird] with the ball," Putko said.
Putko had another efficient day in his second start. He completed 15-of-23 passes for 173 yards. He added 63-yards rushing on 12 carries and two touchdowns.
Houston Hodges led all receivers with seven catches for 78 yards. Sean Hildebrand had a quiet three catches, but effectively handled his down-field blocking duties.
Mason Zurek rushed for 66 on 14 carries and a touchdown in replacement. CP Porter and Anthony Stella combined to add an additional 66 yards and two touchdowns.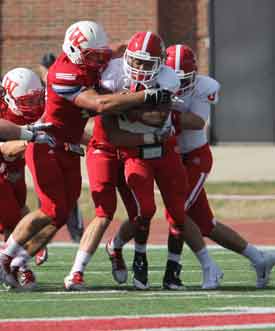 On the other side of the ball, the defense lived up to coaches' and fan's expectations. The unit forced four turnovers—all fumbles—and held the Big Red to 1-of-11 on third down conversions.
"We wanted to send a statement to the rest of the teams around the conference," defensive end Tyler McCullen said. "We want them to see our scores and let them know we're for real this year."
McCullen recorded three tackles and teamed up with Cody Buresh for Wabash's only sack. Woods led the team with nine tackles and a forced fumble.
On special teams, the oft-overlooked Sobleski continued his stellar play. His first punt sent the returner running back to his goal line, leading to the muff. He averaged 44 yards-per-punt on seven tries and had three exceed 50 yards, including one from his end zone. The four punts less than 50 yards were all downed inside the opponent's 20.
"When everybody is blocking up front and you're getting good snaps, it makes my job a lot easier to be consistent," Sobleski said.
The two-time All-Conference punter isn't concerned he doesn't always receive the praise he may deserve.
"We all know special teams is important — it's one of our three keys to the game," Sobleski said.
Wabash travels to Allegheny next week. The Gators handed Wabash one of its two losses last year at Byron P. Hollet Little Giant Stadium — something the team has not forgot. "We're ready to go in and try to get our win back from last year," McCullen said.
Kickoff will be 1 p.m. Saturday in Meadville, PA.
You can see a replay of Saturday's Denison game here.