Wabash freshmen put a little muscle power to work Wednesday morning improving the Montgomery County community. The annual Freshman Orientation Day featured 245 young men serving local charities.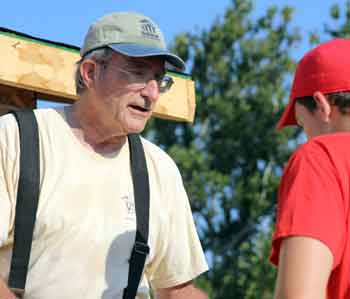 "We get a lot done because the students always bring a lot of energy and just sheer muscle power, but we've also learned over the years that Wabash guys are ready to work," said Habitat for Humanity President and Frist Christian Church Pastor Keith Strain. "They like serving the community."
But the 15-plus guys on site provide more than a day of muscle; Stain said many will return to help for the next four years."
"We hope, being freshmen, that they'll realize this is good work and take part in the work other Wabash students due for habitat," he said. "Some (upperclassmen) come as often as they can. Some are here every week, some bring friends or bring their houses or fraternities with them. "We really depend on students form Wabash and Purdue to build these houses."
Farther form the center of town, a group of freshmen in Economics Professor Joyce Burnette's tutorial group were harvesting vegetables and weeding the community garden.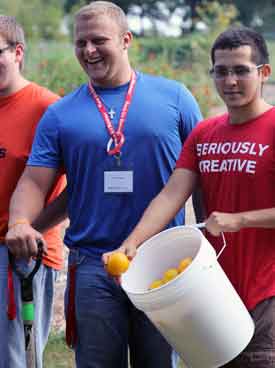 Levi Chitty said it was a fun and beneficial day. "As students on a college campus, you take a lot from the community so it's cool to be able to come and help other people work on what they're passionate about and help them help the community."
The side benefit for the young men is even more bonding on the last day of orientation. "The guys are all cool in my group, I've gotten to know them well," Chitty said. "Now, we're all working together like a team and have really developed a relationship."
After the morning work the mostly red-clad freshmen made quite a sight in downtown Crawfordsville. Before splitting up for lunch at several downtown restaurants, Mayor Todd Barton '00 welcomed the guys to Crawfordsville.
"This is a great little community," the mayor said. "But you'll only get out of Crawfordsville what you put into Crawfordsville. Thank all of you for your service this morning."
Professor Deborah Seltzer-Kelly's students joined Hezekiah Eibert '15, the College's Sustainability Intern through Sodexo this summer, for "Garbology"—a morning of sorting through trash collected from college offices with the goal of improving their rate of recycling. Ebert has created and is helping to put in place a program that will increase recycling and reduce waste campus-wide.
Grounds Manager Tim Riley praised Eibert's work. "He developed this whole program, and he deserves credit for the improvements we're going to see."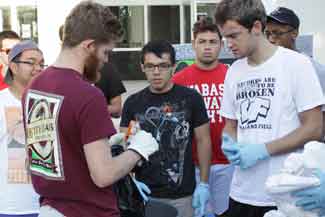 "I spent much of my summer learning what is recyclable, what is not," Ebert told the freshman, who followed his instructions and spent about an hour going through 35 bags of trash. Removing the recyclable material, they were able to reduce the number of bags going to the trash to two!
The recyclable material was taken to the art department, where Professor Stefani Rossi plans to create a work to further educate the campus about recycling.
Completing their sorting, the freshman toured Crawfordsville's Walden Recycling. Student workers in the College Media Center prepared a video about Garbology.