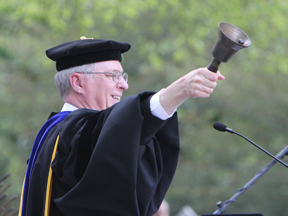 Wabash College will celebrate its 175th Commencement Exercises on Sunday, May 12 at 2:30 p.m. on the College Mall. The ceremony will be streamed live at www.wabash.edu/live
President Patrick E. White will ring out the Class of 2013 while presiding over his seventh and final Wabash Commencement. He will be stepping down at the end of June.
About 195 men are scheduled to receive their sheepskin diplomas in the ceremony.
In keeping with a long-standing Wabash tradition, two graduating seniors, Riley Harrison Floyd and Jóse Daniel Herrera, will be the only featured speakers at the Commencement.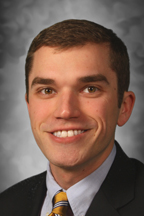 Floyd is an English major who received distinction on his senior comprehensive examinations and was inducted into Phi Beta Kappa. An award-winning journalist, Floyd also earned honors for his work in political science and English, and received the Stephens-Hall Senior Scholarship Award.
Herrera is a history major who received distinction on his comprehensive examinations and won the John F. Charles World History Prize and the George D. Lovell Award.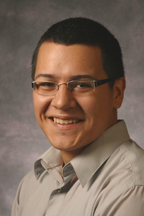 The College will award honorary degrees to a pair of Wabash alumni and a distinguished scholar and philanthropist during the ceremony. Receiving honorary doctorates are Dr. Geoffrey W. Coates '89, Dr. Craig Richard Dykstra, and Dean F. Reynolds '70.
Dr. Coates majored in chemistry and was graduated from Wabash summa cum laude and Phi Beta Kappa in 1989. He earned his Ph.D. in organic chemistry at Stanford University in 1994, and joined the faculty at Cornell University in 1997. He was promoted to full professor in 2002, and today holds the position of Tisch University Professor of Chemistry. An internationally known polymer chemist specializing in environmentally friendly plastics, he was named by Thomson Reuters as one of the world's top 100 chemists on the basis of the impact of his scientific research in 2011 and was inducted into the American Academy of Arts and Sciences.
Dr. Dykstra is a Senior Fellow in Leadership Education at Duke Divinity School. He joined the faculty of Duke in 2012 after his retirement as Senior Vice President for Religion at Lilly Endowment Inc., where he served for 23 years. Under Dykstra's leadership, Lilly Endowment made more than $1.5 billion in grants for religious purposes, including the establishment and ongoing support of the Wabash Center for Teaching and Learning in Theology and Religion and the Wabash Pastoral Leadership Program.
Mr. Reynolds has spent his entire career in journalism, beginning at United Press International in Washington, D.C., where he spent a dozen years as a White House correspondent. He left UPI for ABC News and over the course of 23 years he was the network's lead correspondent in London, Tel Aviv, Dallas, and Chicago. He joined CBS News as a national correspondent based in Chicago in 2007. He is a four-time Emmy Award-winning broadcast journalist and received the White House Correspondents' Association Merriman Smith Award for excellence.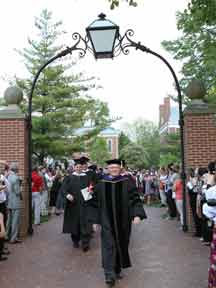 Commencement Day at Wabash begins at 11:00 a.m. with the Baccalaureate Service, which will be held in the Pioneer Chapel. Stephen S. Bowen '68 will give the morning prayers, and Dr. William G. Enright will give the Baccalaureate sermon. Dr. Enright is the former Senior Pastor of Second Presbyterian Church in Indianapolis, and is a member of the Board of Directors of Lilly Endowment Inc.
On Saturday, 23 students will be inducted into the Wabash chapter of Phi Beta Kappa, the nation's oldest honorary society. To be inducted this year are seniors Michael Carper (Indianapolis, IN), Anton Crepinsek (Osceola, IN), Ryan Cronin (Carmi, IL), Hung Duong (Dong Da District, Vietnam), Riley Floyd (Noblesville, IN), Alex Gillham (McCordsville, IN), Christopher Gorman (Decatur, IN), James Gorman (Decatur, IN), Joseph Granger (Celina, OH), Weston Kitley (Indianapolis, IN), William Kline (Terre Haute, IN), Wyatt Lewis (Indianapolis, IN), Tuan Nguyen (Hanoi, Vietnam), Matthew Paul (Bloomington, IN), Peter Santa Maria (West Olive, MI), Jake Schild (Indianapolis, IN), Liam Smith (Lawrence, KS), Yifei Sun (Zhengzhou, China), Gabriel Watson (Columbus, IN), Shengshuang Zhu (Chengdu, China).
Those seniors join Jordan Hoerr (Peoria, IL) and Ronald Sullivan (North Vernon, IN), who were elected as juniors last year. Junior Ryan Cloyd (Beech Grove, IN) will also be inducted.
President White will continue a tradition he began a few years ago when he guides the graduates through the Senior Arch at the conclusion of the ceremony.
In the event of rain, Sunday's Commencement Exercises will be held in Chadwick Court of the Allen Athletics and Recreation Center.