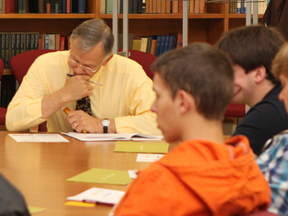 Wabash alumnus Bill Boone '60 has taught English and Latin for his entire career, primarily at Crawfordsville, Fountain Central, and Covington high schools in West-Central Indiana.
He's long since retired, but continues to serve as a substitute teacher at local schools, and has filled in for teachers on medical leave.
He recently took a similar assignment teaching English at Fountain Central High School in nearby Veedersburg. Once he got started, he came to realize that his two senior honors English classes — about 35 students — were lacking a skill necessary for college.
"I was surprised to learn that most of them had never had to write a substantial research paper," Boone said. "And I couldn't think of a better way to learn how to research a topic, so I planned a field trip to Wabash College."
Enter the Lilly Library staff, which rolled out the red carpet on Wednesday and welcomed the 35 Fountain Central Mustangs to the College. The students heard from Librarian John Lamborn, Reference Librarian Jeff Beck, Catalog Librarian Brian McCafferty, and Archivist Beth Swift.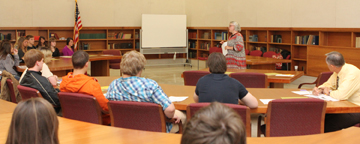 The students learned from the Lilly staff how to access a library's vast resources — from books and journals to electronic resources and even historical documents housed in the archives.
After eating lunch in the Sparks Center, the students heard from current Wabash senior Michael Demeter, a mathematics major and chemistry minor. Demeter, who attended Crawfordsville High School, told the students about the different kinds of research papers he's had to write, typically three or four each semester depending on his class schedule.
"I couldn't have asked for a better day for these students," Boone said. "It's too late for me to convince the boys in the class to consider Wabash, but I feel like Wabash made a great impression on all of them."
The College also hosted second graders from nearby Montezuma, Indiana this week. Jamie Watson of the Admissions Office coordinated the visit, which included stops in Music Professor James Makubuya's instrument building class and Biology Professor Eric Wetzel's lab.