Honor Scholarship Weekend, the College's oldest recruitment event, is this weekend. Approximately 300 high school seniors from across the nation will attend.
The 120th Honor Scholarship Weekend will end with more than $3 million in scholarships being awarded to attending students.
Students and their families arrive Friday morning and explore the College Activities Fair. College organizations, clubs and living units have tables to talk to each young man and share activities available at Wabash.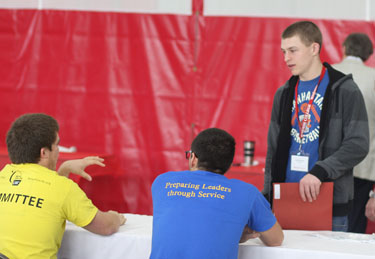 The official program welcome is at 11:30 a.m. with a welcome by Dean of Admissions Steve Klein and President Patrick White. The students will then hear from Student Body President Jeremy Wentzel, Independent Men's Association President Zach Schenkel, and Inter-Fraternity Council President Sky King.
Friday afternoon and Saturday morning is devoted to testing which determines scholarship winners. Students also have two opportunities to visit academic and pre-professional interest sessions late Friday led by Wabash College Professors.
A big dinner is held Friday night before students are given the evening to explore campus housing units. After Saturday morning's testing then lunch, the visitors can take in an outdoor track meet, home baseball opener, tennis or lacrosse matches.
New to this year's schedule is an afternoon of fun planned by Wabash students called Wally World. Those activities will take place on the mall. More student-orchestrated activities are scheduled for the evening.