"Don't come to class with a dead iPad," was one of the final instructions Wabash College history professor Michelle Rhoades gave the 23 students in her 19th Century European History course.
"No matter how tired you are at night, make sure you plug them in," she said.
And that pretty much wrapped up the first meeting of the class. Minutes before each student was given a new iPad to use as part of the College's iPad Pilot Project. Four courses are being taught using iPads this semester, and for Rhoades' students, the combination of history and technology is a perfect match.
"It's kinda cool that we're learning history on an iPad," one student said as he received his device.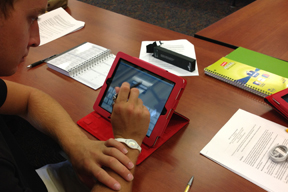 Rhoades started using her own iPad as a research tool about two years ago. She read a review about an iPad application called "iAnnotate," which is a PDF reader that allows users to make notes as they read electronic documents.
Though she said the whole process of using the iPad for research involves a learning curve, she was able to improve her annotations and shorten her course prep time.
All along, she imagined how she might incorporate electronic devices in her classroom. (Rhoades is a stickler for preparation — students know they need to have read required texts well ahead of class because a big chunk of their grade is based on discussion.)
About that same time, the College started to charge students fees for printing documents at public computing labs.
"As a result, laptops appeared like mushrooms in my classes," Rhoades said, suggesting the students were no longer printing assigned readings. "The laptops took up space, annotation and reading was clumsy, and they crowed the students' workspaces making learning more difficult."
When Wabash's IT Services made a call for proposals for a limited iPad Pilot Program, Rhoades had an "aha" moment. "I thought, 'I'll try this!'" she said. "In my spare time I looked for apps that I could connect to a course I already loved to teach — 19th Century Europe. Many books I used were already available as Kindle books. It was, as they say, a perfect storm."
In addition to Rhoades, professors Wally Novak (chemistry), Sara Drury (Political Persuasion), and Stefani Rossi (2-D Art) are also using iPads in their classes.
Shortly after Rhoades called her first class to order last Friday, Kitty Rutledge, who is coordinating the program for IT Services, walked in with her arms filled with shiny new iPads for every student.
Rutledge encouraged students to use them as their own — for email, calendaring, and Internet research.
As the students propped open the devices, Rhoades projected her iPad on a large screen at the end of the classroom. She quickly walked the tech-savvy students through the various applications they will use, all of which were purchased by the College. The Kindle Reader and iAnnotate are what Rhoades described as "the engines" that will drive the students' work.
There are eight full texts that the students will purchase online as eBooks, but the cost savings are dramatic — most are between $7 and $12. Another seven books will be used in part, and shared electronically using the course management system Moodle.
Rhoades even showed off the course syllabus. True to old school teaching, she handed out printed copies at the start of class. But she soon had it projected on her iPad and showed the students how many of the readings were just a click away.
But the key for Rhoades is the ability for students to annotate as they read. It is, after all, a history course, and the students will be required to read thousands of pages. And Rhoades wants them to highlight text, make notes, and write in the virtual margins with inexpensive stylus devices.
They will even download a video game of sorts. Rhoades found a free app called "Château de Malmaison," which allows the students to experience Napoleon's castle in a visually stunning replication. "You will be able to walk around to see what it might have been like to do so in the 19th century," she said.
(I tried the app with my own iPad — tilt the iPad up and see the chandeliers, turn the iPad to the side and see a 360-degree view of the actual castle as it exists today.)
As the first class neared the end, she asked the students to be patient. "You're going to have to be flexible. It's an experiment and we'll work through this brave new world of classroom technology together.
And later, as she said to me, "Now, my experiment begins. I wanted to place the technology in students' hands to facilitate their learning. Now they will use electronic books, articles, and Apps in class; we will see how they respond."