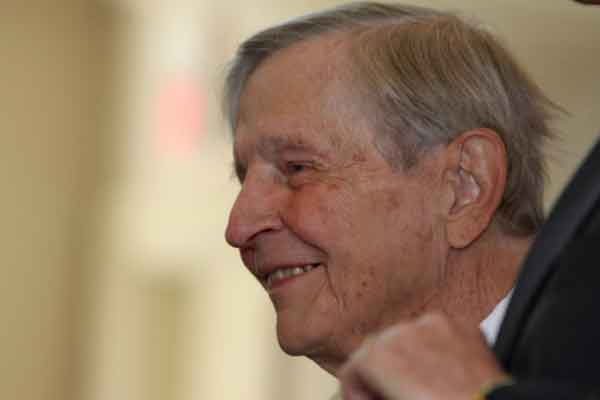 Wabash College mourns the passing of long-time political science professor, Dr. Ed McLean, who passed away on Monday, September 12 at the age of 82.
He is survived by his wife, Maria (Catuogno) McLean and their son, Ian McLean.
Arrangements are being handled by Hunt and Sons Funeral Home in Crawfordsville. Calling will be held on Saturday, September 17 from 9 a.m. to 11 a.m. at Saint Bernard's Catholic Church in Crawfordsville, followed by a funeral mass and graveside service.
The family has requested memorial gifts be made to the Edward McLean Fund at Wabash College or to Saint Bernard's Catholic Church.
A scholar, teacher, and lawyer, McLean began his tenure at Wabash in 1968 after earning his undergraduate degree, master's degree, and Ph.D. from Indiana University-Bloomington. He previously taught political science at the University of Florida and Presbyterian College.
"Ed McLean was one of the great teachers at Wabash," said Wabash President Patrick White. "Long feared for the rigor of his challenge to shoddy thinking and careless reasoning, he was also much loved for the same reasons and because Wabash men knew he cared about them and their lives intensely. He will be missed by all who love Wabash."
While teaching and pursuing his scholarship, McLean went back to law school and earned his juris doctorate from Indiana University in 1975. For years, he managed to be an especially effective teacher, attorney, and deputy prosecuting attorney in Montgomery County. He chaired the political science department at Wabash from 1973 until 1984.
In 1972, he received the McLain-McTurnan-Arnold Excellence in Teaching Award. In 1981 he was named a Sagamore of the Wabash by Indiana Governor Robert Orr, and in 1982 he was named Honorary Secretary of the State of Indiana. He was active in local and state politics; served on the Indiana Civil Rights Commission, and was a director of the Liberty Fund, Inc.
He retired from teaching in 2003 after more than 35 years in Wabash classrooms. He continued to advise and mentor students for the remainder of his life.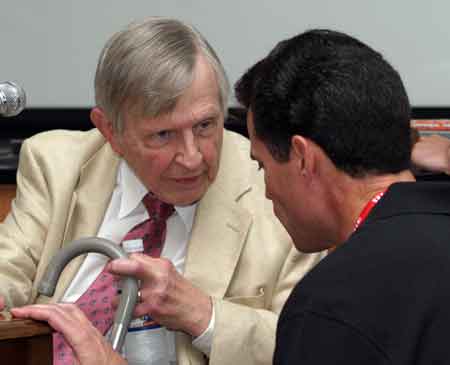 The National Association of Wabash Men paid tribute to Professor McLean in 2008 when it named him an Honorary Alumnus in the Class of 2003. The citation read:
"Edward B. McLean, you have been challenging Wabash students, faculty, and alumni since your arrival on this campus in 1968 as an assistant professor of political science. We hold you in high regard because you have challenged us to think critically — though you have also demonstrated in its purest form what it means to be a lifelong learner. Because of our high standards, receiving tenure at Wabash is a very difficult process. You not only received tenure, you also earned a law degree from Indiana University and served as a deputy prosecutor here in Montgomery County — all while causing heads to spin in your Constitutional Law course. And despite the additional demands of your law practice, you did far more on the academic side than receive tenure. You became one of Wabash's teaching legends. Your legendary status derived in part from how effectively you questioned students using the Socratic method. You were so quick in helping students see and correct the flaws in their arguments that you earned the nickname, "Fast Eddie." You were tough but fair, and thus your impact on students was deep and lasting. Through your penetrating questions you drew from students knowledge that they did not know they possessed. By helping them to hone their critical thinking skills, you inspired many students to become lawyers and those lawyer alumni tell us that you are both the best and the most challenging law professor they ever had. But in all students, regardless of their career plans, you imparted a deep and abiding love of the principles you hold dear, including liberty and personal responsibility. What could be more quintessentially Wabash than those values? The National Association of Wabash Men thanks you for all that you have meant to us, and we now pay you the ultimate tribute of calling you one of our own. Edward B. McLean — Honorary Alumnus of the Class of 2003 and Some Little Giant!"
In 2003, McLean received the David W. Peck Medal for Eminence in the Law. At the occasion, Steve Charles, editor of Wabash Magazine, sat down to talk with McLean's former students, who praised their professor for his rigor and high expectations. Read the full article here.