Wabash College will serve as home to the 2011 U.S. Men's National Team from June 27 to July 4 as 45 players and 10 coaches prepare for the fourth International Federation of American Football (IFAF) Senior Word Championship. The team will live and practice on the 60-acre campus, home of the NCAA Division III Little Giants.
The eight-nation tournament takes place July 8-16 in Austria. USA Football assembles America's national teams in the sport for international competition. Fifty-nine (59) countries spanning five continents possess national football federations dedicated solely to football.
Practices will take place June 28 through July 3. Sessions run from 9:30 a.m. to 11:30 a.m. and from 4 p.m. to 6 p.m. A final practice will be held on Monday, July 4 from 9:30 a.m. to 11:30 a.m. All practices will be conducted in Wabash's Byron P. Hollett Little Giant Stadium, weather permitting. Outdoor practice sessions are open to the public at no charge. Team USA will practice indoors if it is raining. Indoor practices will be closed as fan seating is unavailable. Parking is free in all stadium lots.
U.S. Men's National Team players must be at least 20 years old.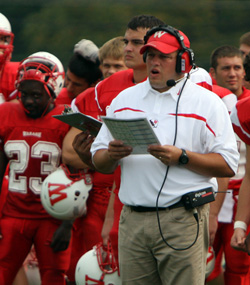 Team USA is led by former Northwest Missouri State University head coach and three-time NCAA Division II national champion Mel Tjeerdsma. Among the assistant coaches is Wabash head coach Erik Raeburn (right), who will serve as the U.S. offensive line coach.
The IFAF Senior World Championship, conducted every four years, was established in 1999. This year's games will be played in the Austrian cities of Graz, Innsbruck and Vienna. The U.S. defeated Japan, 23-20, in double overtime in Tokyo, Japan, to win the 2007 tournament, the first that included Team USA. Prior to the United States' participation, Japan earned gold medals at the first two IFAF Senior World Championships played in Palermo, Italy (1999), and Frankfurt, Germany (2003).
"Wabash is honored and excited to host the U.S. Men's National Football Team for their training and practice," Wabash Director of Athletics Thomas Bambrey said. "Our excellent athletics facilities will help the team prepare for their trip to Austria as they compete for the International Federation of American Football Senior World Championship."
"The hospitality shown to us by Wabash College and so many others in Central Indiana is greatly appreciated," Tjeerdsma said. "We look forward to turning our roster of 45 outstanding players into a true national team in Crawfordsville."
Tjeerdsma (below left) led Northwest Missouri State to a 183-43 (.810) record in 17 seasons there. He was among the first three coaches inducted into the NCAA Division II College Football Hall of Fame before retiring in 2010.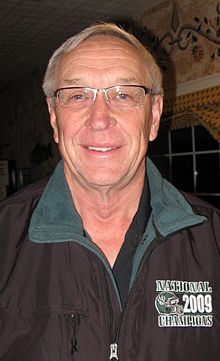 Raeburn is 82-32 overall in 11 seasons as a head football coach. He is 27-6 since coming to Wabash in 2008, guiding his Little Giant teams to a 2008 North Coast Athletic Conference title and NCAA Division III playoff appearances in 2008 and 2009. Raeburn's 2010 team finished 8-2 overall with a 5-1 mark in NCAC play. Wabash closed the season with a 47-0 victory over arch-rival DePauw University in the annual Monon Bell Classic.
USA Football
is the sport's national governing body in the United States. Recognized by the NCAA as a U.S. national team program, playing for Team USA does not affect NCAA eligibility.
The United States is part of Group A along with Australia, Germany and Mexico. Group B includes Austria, Canada, France and Japan. A round robin schedule in group play determines who will compete for gold and bronze medals.
USA Football's national team program is supported by the following corporate partners: Riddell, Marriott, Sports Authority, Gatorade, Shock Doctor and Rawlings.
U.S. Men's National Team roster:
No.

Name

Pos.

Ht.

Wt.

College

Hometown

1

Nate Kmic

RB

5-9

195

Mount Union (Ohio)

Delta, Ohio

2

Ricardo Lenhart

WR

6-3

190

Otterbein

Sidney, Ohio

3

Greg Betterson

WR

6-0

185

Delta State (Miss.)

Niagara Falls, N.Y.

5

Matt Bassuener

QB

6-2

210

Georgetown

Port Edwards, Wisc.

7

Cody Hawkins

QB

5-11

190

Colorado

Boise, Idaho

10

Myles Burnsides

DB

5-11

194

Northwest Missouri St.

Maryville, Mo.

11

Micah Brown

WR

5-11

185

St. Mary's (Nova Scotia)

Friendswood, Texas

12

DeWayne Lewis

CB

5-11

190

Southern Utah

Denver, Colo.

13

Ben McLaughlin

QB

6-3

205

Louisiana College

Dierks, Ark.

17

Gregg Berkshire

K-P

6-2

201

Ashland (Ohio)

Ashland, Ohio

20

Taylor Malm

WR

5-9

192

Northwestern (Iowa)

Thousand Oaks, Calif.

21

Jordan Lake

S

6-1

215

Baylor

Houston, Texas