Steve House shared stories fun and serious from his 47 years as a coach with those in attendance at Thursday's Chapel Talk.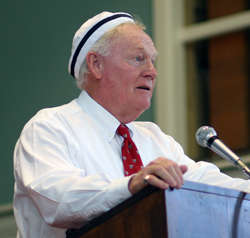 The veteran football coach and campus fixture share mostly funny stories of his career that started in Centerville, then Greensburg, and Southmont High School before Wabash. It was a mixture of funny situations and individuals he's crossed during his career.
He had the Chapel roaring with his "Animal House" days as a student at Ball State.
Only for the final few minutes did he turn serious and reflect upon a life as a coach. He suggested all of the young men in the audience would be coaches of some sort or mentors. He talked about the importance of the role in today's society and how much things have changed.
Now the distractions are peer pressure, respect, home live, a sense of entitlement, drugs and alcohol, he cited from a recent national coaches survey.
"Hopefully I made a difference and you as Wabash men have been challenged to make a difference by living out the College's Mission Statement," House said.
Watch his full Chapel Talk below: