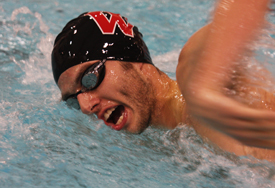 Senior Evan Rhinesmith claimed an individual North Coast Athletic Conference championship for Wabash with a victory in the 100 breaststroke Friday evening at the 2011 NCAC Swimming and Diving Championships at the CT. Branin Natatorium in Canton, Ohio.
Rhinesmith (right) outtouched Denison's Jake Lewing to claim the conference crown with a winning time of 56.90, narrowly missing his season-best and school-record time of 56.47 set at the Calvin Invitational. Teammate Paul Buescher (below left) helped the Little Giants score a total of 54 points in the event by finishing eighth with a time of 59.36.
Wabash swimmer Colin Fahey tied for first place in the 100 breaststroke of the 2005 NCAC Championship meet. Rhinesmith's title is the first solo victory at the championship meet by a Little Giant swimmer.
Wabash opened the evening with a third-place finish in the 200-yard medley relay. Alex Beck, Rhinesmith, David Birrer, and Charles Williams earned All-NCAC honors by finishing in 1:34.63.
Adam Current just missed a spot on the All-NCAC team with his fourth-place finish in the 100-yard butterfly with a time of 50.91. Birrer scored a sixth-place finish with a time of 51.27. Eric Vaughn (left) not only won his heat of the 100 fly to finish in ninth place, he posted an NCAA "B" cut qualifying time of 50.63 for the third-quickest time of the evening.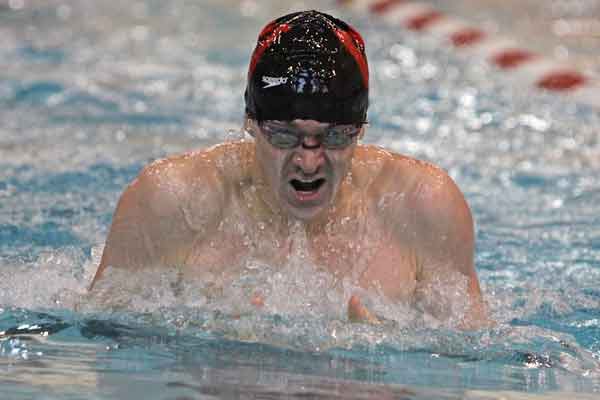 Williams added a 10th-place finish in the 200 freestyle with a time of 1:44.52, his quickest time of the year by more than a second. Beck took 18th (1:48.85) with his fastest time of the year, while Chad Woods was 22nd with a time of 1:49.58.
Vaughn was 17th in the 100 backstroke (54.13), while Current took 21st place (56.40). Logan Rice took 15th place in the 400-yard individual medley with a time of 4:22.61, his fastest effort of the year. Adam Barnes grabbed 19th place with a season-quick time of 4:23.58. Brad Wise also produced his best time of the year by finishing in 4:29.73 to take 22nd place.
The Little Giants finished sixth in the 800-yard freestyle relay. The quartet of Rice, Barnes, Logan Falley, and David Phillips combined for a time of 7:11.70.
The Friday efforts moved the Little Giants into third place in the overall team standings with 493 points. Denison leads the team scoring with 1,171 points, followed by Kenyon in second place with 1,049 points. Wooster is fourth (489.5), followed by Wittenberg (432), Oberlin (426), Allegheny (396), Ohio Wesleyan (267), and Hiram (237.5). The final day of competition will begin Saturday morning with the prelims followed by the final round Saturday evening.
Game Stats