Wabash claimed three team victories to finish in sixth place at the 2011 Budd Whitehill National Wrestling Duals over the weekend. The Little Giants knocked off RIT, Heidelberg, and Wisconsin-Whitewater.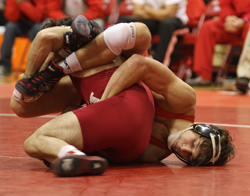 The Little Giants opened the two-day competition with a 34-11 victory over RIT. Josh Boyer started Wabash out with a pin in his 125-pound bout at the 5:33 mark. Garrett Payne defeated Brandon Thuotte 9-6, followed by a pin by Jake Strausbaugh 2:13 into his 149-pound bout. After Jake Moore received a forfeit at 165 pounds, the Little Giants added wins by Greg Rhoads at 184 pounds (pin at 1:17), Dylan McBride at 197 pounds (10-1 major decision), and Pat Clegg at heavyweight (12-5).
The win over RIT sent Wabash to the second round against 15th-ranked The College of New Jersey. The Little Giants, entering the week ranked 28th in the nation, lost a close contest by a score of 23-14. Payne scored the first points of the match for Wabash with a 9-1 decision at 141 pounds. Strausbaugh (above left) picked up a 9-3 win at 149 pounds. Austin O'Neal added a 6-4 victory at 197 pounds, while Clegg finished with a 13-3 major decision in the final bout.
The loss send Wabash up against Heidelberg in the next round, where the Little Giants scored a 19-18 win. Early victories by Boyer (forfeit), Payne (10-5), and Strausbaugh (21-9 major decision) put the Little Giants ahead early. Heidelberg came charging back to take the lead after Rhoads had put Wabash in front with a 3-0 win. Clegg secured the victory for the Little Giants with a 5-3 win in his bout.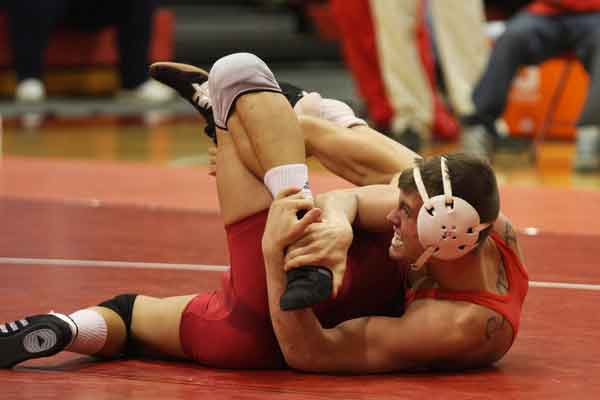 The Little Giants needed eight tiebreakers to advance to the finals over Wisconsin-Whitewater. The two teams tied at 19-19 in the final score, but Wabash recorded 15 takedowns versus 13 for the 26th-ranked Warhawks to take the win. Boyer (13-4 major decision), Payne (4-0) (photo right), Strausbaugh (14-8), Moore (4-2), and Rhoads (pin at 1:01) each scored individual victories.
Wabash faced 12th-ranked York in the finals, losing 21-18. Oscar Trujillo earned a 6-4 overtime win at 133 pounds. Strausbaugh followed with a 7-4 victory at 149 pounds to finish with an overall record of 5-0 for the weekend. Graham Youngs picked up a 6-4 decision at 157 pounds, with Moore adding an 8-2 win at 165 pounds. A forfeit for Clegg drew Wabash to within three points at the end.
Eight total teams ranked in the top-30 in the latest Brute/adidas National Wrestling Coaches Association Division III national poll participated at the Duals. In addition to wins over nationally-ranked Whitewater, the Little Giants finished ahead of 21st-ranked Springfield in the final team standings.
Wabash returns to action with two home meets this week. The Little Giants will play host to Manchester College Wednesday evening at 6:30 p.m. at Chadwick Court before hosting the annual Max Servies Duals on Saturday.
Game Stats