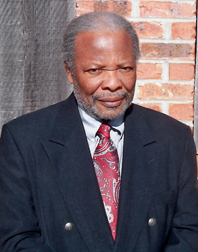 To celebrate the 40th anniversary of the founding of the Malcolm X Institute of Black Studies and the birthday of Martin Luther King, Jr., Wabash College will host a series of events featuring two Civil Rights Movement veterans.
Civil Rights activist Charles McLaurin (right) and author/illustrator Tracy Sugarman will be on campus and visiting a number of classes from Wednesday through Friday, January 19-21. They will present a joint lecture on Thursday at 7:30 p.m. in the Lovell Lecture Room in Baxter Hall.
McLaurin will also be a guest speaker at Wabash's weekly Chapel Talk Thursday morning at 11:15 a.m. in the Pioneer Chapel.
The public is invited to attend both events.
McLaurin was born in Jackson, Mississippi and later attended Jackson State University and Mississippi Valley State University, where he studied political science and black history. In 1961, he heard Dr. Martin Luther King, Jr. speak at a mass meeting, which inspired him to join the Student Non-Violent Coordinating Committee and worked to register voters in Jackson. It was through the committee that McLaurin met Fannie Lou Hamer, who would become the face and voice of a generation of non-violent protestors.
In 1964, McLaurin served as the field director of Freedom Summer for the Council of Federated Organizations (COFO). During the heyday of his fight for freedom and his refusal to accept Jim Crow Segregation laws in Mississippi, McLaurin was jailed more than 30 times, and would become one of the unsung heroes of the Civil Rights Movement.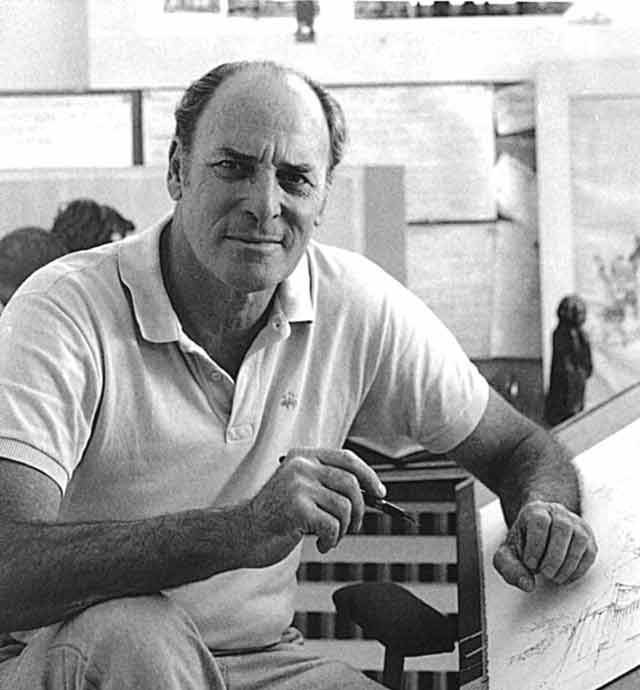 Between 1968 and 1980, McLaurin worked with and assisted in the development of several programs in Sunflower County and the Mid-Delta designed to help poor and low-income people. He currently resides in Indianola, Mississippi and is the retired Assistant Director of Public Works for the City of Indianola.
McLaurin's civil right works is referenced in more than 20 published books and publications. In 2010, he received the Fannie Lou Hamer Humanitarian Award, which is presented annually by
Hamer National Institute on Citizenship and Democracy
at Jackson State University.
Born in 1921, Sugarman (left) began drawing and illustrating during his service in World War II. Married just before he shipped out to Europe aboard the Queen Mary, Sugarman's wife, June, gave him some sketch pads and asked him to send home a few drawings if he had time.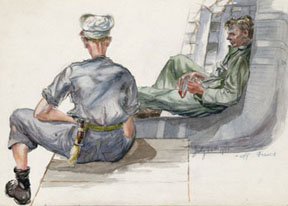 He produced more than
75 illustrations
and scores of letters, which have been acquired by the Library of Congress for its Veterans History Project (
sample right
). Those correspondences would also lead to the book,
My War: A Love Story in Letters and Drawings
.
Over the course of more than 60 years as an artist, the Syracuse University graduate has illustrated hundreds of books, magazine articles, and record covers, and has been featured on PBS, ABC, NBC, and CBS.
As a journalist in 1964, Sugarman covered the student volunteers who traveled to the Mississippi Delta to assist African Americans in voter registration, during which time he became friends with Hamer and McLaurin. Those experiences led to his book,
Stranger at the Gates: A Summer in Mississippi
(Hill and Wang, 1965).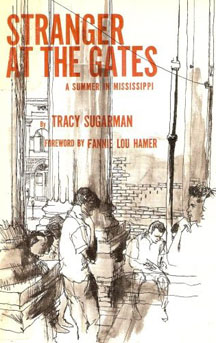 In We Had Sneakers, They Had Guns
, Sugarman chronicles the sacrifices, tragedies, and triumphs of that unprecedented moment in our nation's history. Two white students and one black student were slain just two days after Sugarman arrived in Mississippi. The book revisits Sugarman's summer in the Delta, also includes Sugarman's return to Mississippi in the fall of 2001, and weaves oral history, memoir, and illustration into a candid view of one of the most violent periods in American history.
Sugarman is also one of the subjects of the award-winning documentary film by David Baugnon,
Art in the Face of War
.
Sugarman art courtesy of the Discovery Channel and Library of Congress, Prints & Photographs Division.