DePauw University Joins North Coast Athletic Conference
by Howard W. Hewitt • June 9, 2010

Share:
Just in case any one thought the annual Monon Bell Game didn't have enough hype, importance, and pressure, DePauw University has accepted an invitation to join the North Coast Athletic Conference to replace the departing Earlham College.
DePauw will start competition effective July 1, 2011, and effective with the 2012 football season. The school has been a member of the SCAC since 1998. The annual, season-ending Bell game between DePauw and Wabash would be a conference game as well starting in 2012.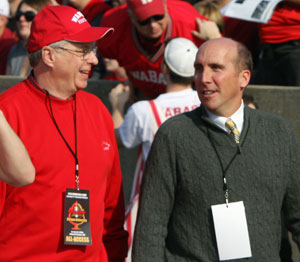 "We welcome DePauw University to the North Coast Athletic Conference," Wabash President Patrick White said. "It will be great to carry on our legendary rivalry within the conference. The high quality of DePauw's academic programs, as well, makes them a good fit for the NCAC and the conference's commitment to academic and athletic excellence."
DePauw President Brian Casey noted geography had a big role in the decision.
"Many factors played a part in this decision," Casey said. "Chief among them was a desire for a less strenuous and more environmentally friendly travel regimen for our teams," noting that the NCAC membership stretches across Pennsylvania, Ohio and Indiana, while SCAC includes institutions in Texas, Mississippi and Colorado. The move to the NCAC, the president adds, aligns DePauw with "strong institutions with a similar focus on academic excellence and the overall development of the student with fewer strains on both schedules and budgets."
Wabash Athletic Director Tom Bambrey said the school's athletic programs are delighted to welcome the Tigers. "Of course, we have continued to play DePauw in all men's sports during their time in the Southern Collegiate Athletic Conference and our rivalry remains intense and respectful. We admire the competitiveness of DePauw's teams, year in and year out. Now we will have the additional opportunity of playing them within the conference, so we expect our rivalry to be even more meaningful for us and for them."
Little Giant coaches were echoing Bambrey's excitement.

"Obviously, it's really good for all the other sports creating a balanced schedule," Little Giant Football Coach Erik Raeburn said. But Raeburn, 1-1 in Bell Games and 20-4 in two years at Wabash, isn't sure the annual battle for the Monon Bell can get any bigger.
"I think it's such a big game that it's hard to believe it could get any bigger. But I guess if we're conference rivals it could make it more intense."
The second-year coach noted the one big difference will be in preparation. Wabash and DePauw coaches have both admitted in years past they spend more than one week preparing for the season-ending battle. Raeburn said both teams will now be seeing film of each other throughout the season.
"I just don't know that it can make it any more intense," Raeburn said. "It's pretty intense as it is."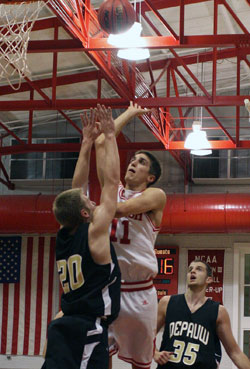 Basketball Coach Mac Petty said DePauw is an excellent fit. "DePauw has the same ideas as far as philosophy in academics and athletics as the existing schools. It's almost like a clone of the Woosters, Denisons, and Kenyons and those schools. I'm surprised that they weren't in earlier.
"They have a very good basketball program, but their over-all athletic program is strong, It just adds another team to the conference, especially from Indiana, that's going to make it really competitive."
Swimming Coach Steve Barnes welcomed DePauw to the NCAC, easily the nation's top swimming conference. "I think it's going to make the conference a lot tougher, especially on the swimming side," Barnes said. "They've won their conference for numerous years now. So now you're adding another national power, really, to a conference that's already ridiculously deep. It's going to make recruiting tougher. It's going to make us work harder and be better, too."
Baseball coach Cory Stevens called the announcement a logical move for DePauw and the NCAC. "From our standpoint I think it helps us as far as not being the only school in Indiana, especially this far west. But they've got a great athletic department, great teams, so it should be a great addition to the conference. They've got a great baseball program. It's only getting tougher in the North Coast."
Top left, President Patrick White and DePauw President Brian Casey at the 2009 Monon Bell Game.