Will Shortz
Doctor of Humane Letters
May 16, 2010
Native son of Crawfordsville, Wabash College is pleased to honor you on this day for your curiosity and intellect, your wit and good humor, and your love of words and language. You model for the students of Wabash a life of the mind — a life of asking and answering questions playfully and exploring the outer reaches of knowledge. And you had an early start. By age eight, you had become an 11-letter word for "puzzle maker" — C-O-N-S-T-R-U-C-T-O-R. You sold your first puzzle at age 14 and began publishing your constructions in magazines before you had your driver's license.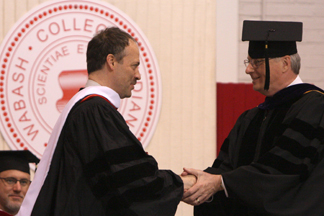 You would graduate from Indiana University in 1974 having earned the nation's only degree in Enigmatology. A few years later, at age 25, you founded the American Crossword Puzzle Tournament, and have been the leader of that tournament ever since. In 1993, you became the editor of the
New York Times
crossword, which remains a seven-letter construction meaning "newsprint money-maker" — C-A-S-H-C-O-W. This puzzles us to query, "Can crosswords save the printed page?" If not, your puzzles do translate well on the Internet; the crossword remains the only element of the online edition of
The Times
for which there is a subscription charge.
New York magazine said your fans "regard [your] puzzle as the last true showcase for elegant language, sparkling wit, and groan-inducing puns." Yet we understand that you are most fond of the nine-letter phrase J-A-M-P-A-C-K-E-D when it comes to crossword grids that meet your high standards. We know that fully 25 percent of Sunday Times readers flip immediately to the crossword, and that you might be responsible for a good many eight-letter "separations" — D-I-V-O-R-C-E-S — depending on who gets to the puzzle first! You make Sundays double the fun as National Public Radio Weekend Edition's "Puzzlemaster," a spot you have held since 1987.
You were the subject of the documentary Wordplay, which profiles crossword puzzle fans — who range from U.S. Presidents to factory workers to curiously bright grade-schoolers. "Crosswords are for everybody," you once said. Yet you are even more popular in the numbers game, and you have fed the world's addiction to the seven-letter word for "number puzzle" — S-U-D-O-K-U. Amazon sells 270 Sudoku puzzle books in your name alone, including a dozen that have not yet been released, which suggests your puzzles create a four-letter word meaning "talk of the town" — B-U-Z-Z. And while your crossword puzzles test the depth of one's knowledge, your Sudoku puzzles require no use of the English language at all, and thus you knock down borders of every imaginable kind. You once said, "Of the natural problems we face every day, very few have concrete solutions. But with a puzzle, you have that feeling of completion, which is very satisfying. You have not a solution but the perfect solution."
Will Shortz, self-titled Enigmatologist, you model a life well lived in the practice of the liberal arts; a life lived in pursuit of happiness through words, language, and numbers. You delight in crafting the perfect puzzle so that we might find perfection in the solution — if only for that moment. Therefore, by the authority vested in me by the Board of Trustees of Wabash College and delegated to that Board by the State of Indiana, I do hereby confer upon you the degree of Doctor of Humane Letters, honoris causa, with all the rights, privileges, and responsibilities thereunto appertaining, of which this citation shall be a permanent witness.