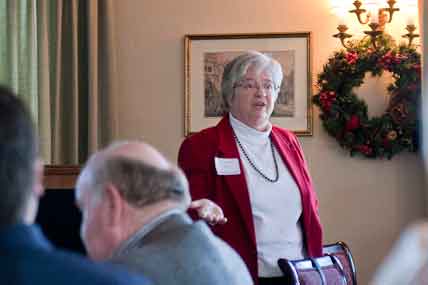 A room full of Chicago-based alumni welcomed a large group of Wabash faculty and staff to their Holiday Luncheon including new Honorary Alumna Professor Melissa Butler H'85.
The group gathered at the Tower Club in downtown Chicago to welcome the Wabash contingent. Before lunch Wabash Club of Chicago president Greg Jania '93 welcomed President Pat White who thanked the group for attending, updated them on the latest Admissions successes in the area, and wished everyone the best for the Holidays.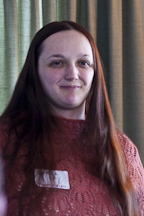 After the luncheon, Melissa Butler and new Wabash Political Science Professor Alexandra "Lexie" Hoerl were the featured speakers outlining the immense impact faculty development funding at Wabash makes. Their presentations covered the significant and lasting effects that such funding has on the faculty member and on the students at Wabash who benefit in both the formal classroom setting and in informal learning around campus.
Joining President and Mrs. White and Professors Bulter and Hoerl were Dean for Advancement Joe Emmick '92, Senior Major Gift Officer Steve Hoffman '85, and Assistant Director of Admissions Kim King '99 (Kim is the primary Admissions recruiter for the greater Chicago area).
For more photos from the luncheon, click here.
Photos:
Top - Professor Melissa Butler H'85
Right - Professor Lexie Hoerl