Isaacs Earns AFCA All-America Honors
by Brent Harris • December 15, 2009

Share: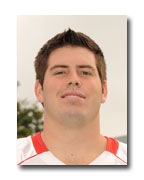 Wabash senior offensive lineman Evan Isaacs has been named to the 2009 American Football Coaches Association Division III Coaches' All-America Team.
Isaacs earned the honor after starting all 11 games at left tackle, grading at 97-percent on the line for the 2009 season. He was part of a Little Giants offensive unit that ranked 13th in scoring offense in the nation. The Little Giant offensive line allowed only 10 sacks for the year while Wabash produced the 21st-best total offense and 29th-best passing offense in the nation. The Little Giants ranked 24th in the nation in total sacks allowed per game with an average of .91.
Isaacs was a First Team All-NCAC pick in 2008 and 2009, and recently earned D3football.com Second Team All-North Region honors.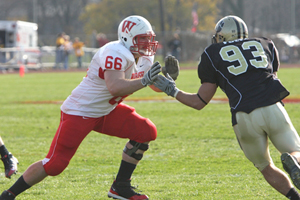 The AFCA has selected an All-America team every year since 1945. Isaacs joins former Wabash players Ryan Short (2002), Adrian Pynenberg (2007), and Jared Lange (2008), as AFCA All-America picks.




For more information see: