Crawfordsville native and New York City singer/songwriter Evan Watson will perform a benefit concert on Friday, December 18 in Salter Concert Hall at Wabash College. The 8:00 p.m. performance will raise funds for the Friends of Sugar Creek, and the event is being co-sponsored by the Experience Indiana program. A $5 donation is suggested.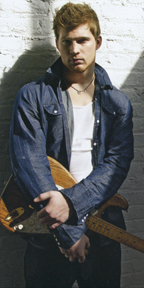 If his travel schedule permits, Watson will also present a music workshop at 4 p.m. in Salter Hall for young people interested in music as a possible career choice.
"I am humbled by the opportunity to play in Salter Hall," said Watson, whose bluesy voice has been likened to John Mayer. "Not only is it a beautiful venue aesthetically and sonically, it's where I grew up watching music and a good part of the reason I do music as a living now."
Watson, the son of Dwight ad Jamie Watson, graduated from Crawfordsville High School in 2003 and with honors from the College of Wooster in 2007, after which he moved to New York City to pursue his music career.
Shortly before he moved to NYC, Watson began working with New York producer, musician, and BMI award-winning songwriter, Peter Zizzo. Zizzo who has authored songs for Celine Dion, O.A.R, Jennifer Lopez, Donna Summer, and Diana Ross, helped Watson record a demo CD at his Big Baby Recording Studios in Manhattan. He also worked with Tina Shafer at the Singer-Songwriter Circle at The Bitter End.
With a demo in hand, Watson set a course for the creation of his debut album. The new album, A Town Called Blue, features his vocals, acoustic, and electric guitar, along with Zizzo (acoustic and electric guitar), T-Bone Wolk (bass, mandolin, banjo, accordion, twelve-string, Hammond B3, piano), and Joe Bonadio (drums and percussion), among other studio musicians.
Watson writes accessible songs that flirt with pop melody lines, but always deliver a heart-felt original execution. With cited influences like the Allman Brothers, Eric Clapton, The Band, Buddy Guy, and Ben Harper, Watson's live performance is riddled with soul, roots, and "a helluva lot of guitar solos."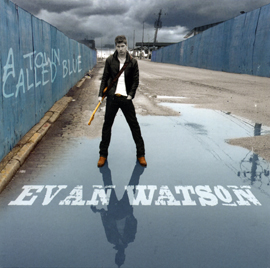 Watson is returning to Crawfordsville while promoting his debut album,
A Town Called Blue
, (released in September '09) while performing live at various NYC venues (including The Bitter End, The Cutting Room, The Mercury Lounge, and Arlene's Grocery) along with national venues including Bonnaroo and 10k Lakes music festivals.
"Evan Watson sounds like John Mayer and Dave Mathews rolled into a blues burrito," wrote John Conger of Deli Nashville. "Mostly known for his live performances, the New York based musician should provide a laid back treat for fans of jam and blues."
Many people remember Watson for his football playing career, which concluded when he was named an All-North Coast Athletic Conference pick at the College of Wooster. Watson was also named an ESPN The Magazine Academic All-American as a defensive end.
"I think this will be a cool performance, and I think between the Crawfordsville and Wabash community we could fill up some seats to benefit the Friends of Sugar Creek," said Watson.
"Evan Watson — yes, you expect a much older, grisly entertainer, say even Joe Cocker or an echo of Eddie Vedder–with not-soon-forgotten hooks and choruses for some of the best, bluesy love songs out there," said Refrain magazine. "He can hold his own with just a guitar, but has a wonderful backup band."
Growing up in Crawfordsville, Watson's early music education was largely informal with lessons in piano, trumpet, and the instrument he embraces with serious passion, the guitar. His love for the guitar was shaped by his intense study of guitar legends B.B. King, Eric Clapton, Stevie Ray Vaughn, Jimi Hendrix, and many others.
Throughout his college career, including a semester at the University of Aberdeen in Scotland, Watson performed as a singer-guitarist, while developing his talent as a songwriter.
In late 2008, Watson signed a management agreement with David Sonenberg (DAS Communications), who has successfully managed artists including Meat Loaf, Jim Steinman, The Fugees, the Spin Doctors, Keke Palmer, Joan Osborne, John Legend, The Black Eyed Peas, and Fergie.
Watson's benefit concert is open to the public.