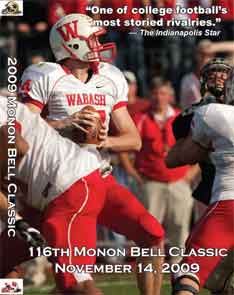 The commemorative DVD that chronicles Wabash's 32-19 win over DePauw University in the 116th Monon Bell Classic is now available for purchase in the Wabash College Bookstore.
Cost of the 2009 Monon Bell DVD is $14.95, and it is available at the Bookstore or for
purchase online
.
A collaborative effort of DePauw University and Wabash College, the disc includes the HDNet telecast of the contest in anamorphic widescreen (enhanced for 16x9 televisions) and more than 2 hours of bonus features.
Fewer copies of the disc were produced this year, which will limit the availability. This is the ninth consecutive year that a Monon Bell DVD has been produced.
"Each school only has about 150 of these discs to distribute, and many are spoken for via pre-orders," says Ken Owen, executive director of media relations at DePauw, who mastered the DVD. Owen has produced each of the discs in the series.
Jim Amidon, director of public affairs and marketing at Wabash College, created the artwork for the packaging and menus for the discs, which were replicated by Oasis Disc Manufacturing in New Jersey.
Other features of this year's DVD include:
• Highlights of the 2009 season for both schools
• More than 800 photos in two galleries, including hundreds of vintage shots.
• Both schools' halftime videos and features on Kenny Coggins of Wabash and Alex Fitch of DePauw.
• 11 Monon Memories spanning from 1890 to 2007, and four game-day features
Supply of this year's commemorative DVD is limited.