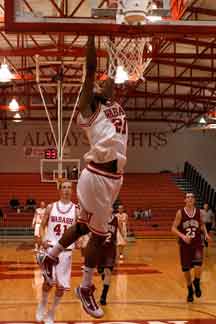 Wabash proved there's no place like home Tuesday night with a 64-46 victory over Rose-Hulman in the basketball team's first game at Chadwick Court in the 2009-2010 season.
See pictures from Tuesday's action here and here.
The Little Giants took a 40-23 halftime lead, shaking off two straight slow starts. Wabash held Rose to 26.5 percent from the field, including just 8-of-34 shooting from the field in the second half.
Wabash raced out to an early 22-9 lead thanks, in part, to an early six points from junior Wes Smith. The Little Giants' leading scorer coming into the game, Smith finished with 18 points to put him ten shy of the 900-point mark in his career.
Teammates Chase Haltom and Aaron Brock have joined Smith on the race to 1,000 career points. Brock went over the 900-point mark for his career with a 14-point effort against the Engineers, while Haltom scored nine points to give the senior guard 898 all-time points.
The Little Giant starters were backed up by a strong effort from the bench in the opening period. The Wabash reserves scored 17 of the team's 40 first half points. Aaron Zimmerman scored all five of his points in the first half, while Nick Curosh added four points in the period. Andrew Gilman and Dominique Thomas each nailed three-pointers to provide the 17-point cushion at halftime.
"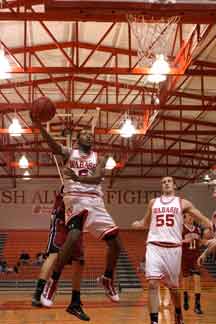 We showed we can play well from the opening tip," head coach Mac Petty said. "Now we have to show we can play well for 40 minutes. We reversed our lulls this time. Instead of getting off to a slow start, we didn't finish well in the second half. We have to put a complete game together."
Wabash only outscored Rose by one point in the final period, shooting 8-of-29 from the field in the second half after connecting on 15-of-33 shots in the first.
Brock scored his seventh career double-double by scoring 14 points along with 12 rebounds. He moved past 900 points in his career, as well, by scoring his 911th all-time point. Derek Bailey came off the bench to grab 10 rebounds to go with his five-point effort.
Rose-Hulman (3-5) was led in scoring by Austin Weatherford with 10 points.
Wabash (3-4) returns to action Friday night at 7:30 p.m. at Chadwick Court for a rematch against DePauw University. The Tigers defeated Wabash 65-57 in the teams' first meeting in the championship game of the Mike Rokicki Community vs. Cancer Tournament at DePauw earlier this season.
Photos - (top left) Wes Smith throws down a dunk for two of his game-high 18 points.
(Bottom right) Aaron Zimmerman scored five points off the bench for Wabash. The Little Giant bench scored 23 points overall, including 17 in the first half of the win over Rose-Hulman.
Results: Wabash 64, Rose-Hulman 46
Game Stats