A dramatic fourth down, double overtime 30-yard pass from Illinois Wesleyan's Kraig Ladd to Jack Scalcucci ended a great ballgame Saturday and great season for the Wabash College Little Giants, 41-35.
The first round NCAA Division III playoff game was back and forth and took two extra periods to decide between the 9-1 teams. Illinois Wesleyan (10-1) will play at Wisconsin Whitewater Saturday. The Little Giants end their season at 9-2.
The teams ended regulation at 28-all. Wesleyan scored first to go up 35-28 before Little Giant quarterback Matt Hudson sneaked the ball over the goal line on a fourth down , 35-all, to send the game to a second extra period.
Wabash had the ball first and picked up a first down on two plays. But on the following play from the 14-yard line, Hudson was picked off in the end zone.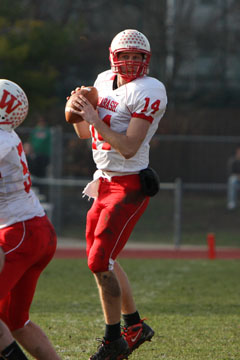 "I didn't see the safety," Hudson said of the play "All I saw was Kody. He had his hand up and I didn't see anybody. I probably put a little more air under it than I should have. I was just seeing him wide open. I was thinking 'don't over throw him' and unfortunately that guy made a good play."
It appeared the Wabash defense was going to hold the Titans scoreless. The defense forced a fourth-and-15 from the 30 yard line when Kraig found Scalcucci across the middle for the winning score.
"We didn't do a good enough job particularly on third down and couldn't get off the field," Wabash Coach Erik Raeburn said. "Offensively, we couldn't run the football and if you have to pass it every down eventually it's going to catch up with you."
The Titans converted six of 15 and Wabash five of 13 third down opportunities. The Little Giants rushed for 93 yards compared to Illinois Wesleyan's 163. But Wabash struggled several times in short yardage situations.
Wesleyan jumped to a 21-7 lead in the first half before Wabash picked up the tempo behind Derrick Yoder's one-yard run, 21-14.
Wabash continued the accelerated pace and had Wesleyan's defense on its heels in the third period. Hudson scored on a three-yard run to cap an 11-play, 80-yard drive. In its next possession, Wabash went 49 yards in eight plays to take its first lead on a Derrick Yoder seven-yard score, 28-21.
"We're no huddle so we tried to pick up the pace and go a little faster," Raeburn said of the two scores. "I felt like we were in a pretty good rhythm late in first half and in the second half. Every time we had the ball I felt like we were going to score. We just had a couple possessions that got away from us and let the game get away from us."
Wesleyan came back mid-quarter to tie the game at 28. The Titans took the ball 61 yards in 15 plays and scored on Ladd's one-yard run.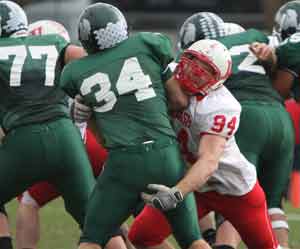 The Little Giants got the ball with a chance to regain the lead but missed on a third-down conversion. The Titans couldn't get to the end zone in its final possession setting up the overtime.
Wesleyan rolled up 479 yards of total offense to Wabash's 361. Ladd threw for 316 yards on 28-of-46 attempts. Scalcucci caught nine passes for 116 yards and running back Eli Williams rushed for 101 yards on 14 carries.
"They're a good offense and they executed well," senior linebacker Bryan Watson said of IW's offense. "We got them third and long at times and they'd convert."
Hudson hit on 31-of-45 passes and 268 yards for Wabash. His longest pass of the day was for 16 yards.
Addrian Frederick led Wabash with nine tackles. He also became Wabash's single-season interception record holder with his ninth of the season in the first quarter which stopped the Titan's first drive.
From the Wabash 10-yard line, the Titans attempted a half-back pass.
"Jake Martin was up in that kid's face and I could tell it was a pass the whole way," Frederick said. "Jake just made him throw it up for grabs."
C.J Gum and Martin added nine and eight stops, respectively.
Defensively, Wesleyan had given up an average of just 11 points a contest through its first 10 games.
"I thought we move the ball great," Raeburn said. "I don't know what they've giving up, maybe 11 points a game, and we scored 35 on them. I thought we threw the ball really well and we protected the quarterback. On our last possession in regulation we had a chance to win. It's second and short and we tried to run it and lost three or four yards. And then we came up short on third down and that killed us; that pretty much summed it up all day for us offensively all day."
Photos - Senior quarterback Matt Hudson threw for 268 yards and one TD and rushed for two more scores in his final game for Wabash.
Senior Matt Whyde was part of two sacks by the Wabash defense.
Results: Illinois Wesleyan 41, Wabash 35 (2 ots)
Game Stats