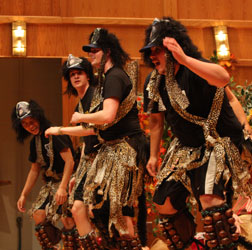 Wabash College's Music Department invites you to a concert given by Wamidan World Music Ensemble and the Jazz Improvisation Combo as they present their first concert of the season at 8 p.m. Wednesday, November 18 in Salter Concert Hall in the Fine Arts Center.
Founded in 2000, this concert marks Wamidan's ninth year since its foundation. The ensemble works on and presents folk music performances that include folk songs, dances, and instrumental music from various folk music traditions from different world music cultures and traditions.
This year the concert will present a spectacular concert program representing Jazz composers Monk, Shorter, Gershwin, Parker, Bryson, and Goldberg with arrangements by Steve Robinett. Wamidan will give the audience the unique taste of slit drum music and dances of Nigeria, log-xylophone and bow harp music of Uganda, wedding music and dances of the Zulu of South Africa, and the harvest Aije dance of the Acholi of East Africa.?
Wamidan is under the direction of James Makubuya, associate professor of music. The Jazz Improvisation Combo is under the direction of Stephen Robinett.
The concert is free and open to the public.