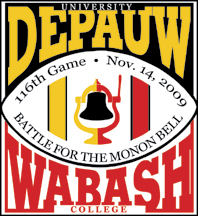 Looking for an edge in the 116th Monon Bell Classic?
Keep looking.
Saturday's historic matchup between Wabash (8-1) and DePauw (7-1) appears to be about as evenly matched as any bell-ringer in recent history.
Both teams feature Hall of Fame quarterbacks, talented receivers, and experienced offensive lines. This year's game might just feature two of the very best offenses ever to appear in a Monon Bell Game.
Flip a coin at quarterback. DePauw's Spud Dick will start his fourth straight Monon Bell game with a 2-1 record and two straight wins. He was nearly perfect in last year's 36-14 win in Crawfordsville. Already this year, Dick has thrown for 2,100 yards and 21 touchdowns — in just seven games — with just six interceptions. He's one of the nation's most efficient passers and hits on 73 percent of his throws.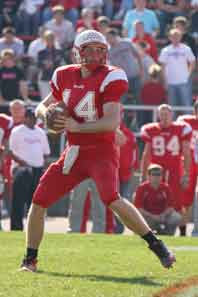 The Little Giants are led by the 2008 NCAC Offensive Player of the Year, Matt Hudson (left), who will start his third straight Bell game, but has yet to taste victory. Hudson missed two games after beating Washington University on October 10 — a game in which he threw for 335 yards and three touchdowns, ran for 65 yards, and did it all with a collapsed lung.
He sat the Wittenberg and Wooster games while recovering, but has been quite good in easy victories over Oberlin and Hiram — hitting 37-of-49 passes for 506 yards and six touchdowns.
The matchup at wide receiver is just as tight.
DePauw starts Alex Koors, who last week set the single-season receiving yardage record when he eclipsed 1,000 yards in just his eighth game. He averages 20 yards per catch and has scored 12 touchdowns. Opposite Koors is senior Bryan Mulligan, who last week became DePauw's all-time leader in receptions. Mulligan has 48 catches and five touchdowns.
For Wabash, defenses have to pick their poison — double up All-American Kody LeMond or one of the fastest men in the NCAC, Wes Chamblee. LeMond has 52 catches and 13 touchdowns, and averages 17 yards-per-catch. Chamblee has 45 catches and five touchdowns, despite missing the Oberlin game.
Wabash's running game has been by committee — seven different players have accounted for 18 rushing touchdowns this year. Sophomore Tommy Mambourg carried the load in the first half of the season, and leads the team with 678 yards and four touchdowns. In the last several games, Wabash has used as many as seven different runners, including junior Derrick Yoder, who suffered a pre-season injury. Freshmen Kyle Stevens, Derek Rose, and Nathan Walters have all shown promise.
The Little Giants had a tough time bringing down DePauw's Jon Ellis a year ago in Ellis' first Bell game. This year Ellis has split time with Derrick Karazsia, and the combination has produced 957 yards and nine touchdowns.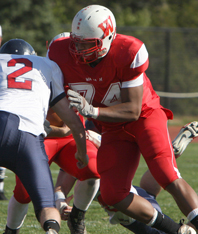 The key to the offenses, though, will be on the line. This may be where Wabash has an edge — if it can take advantage of it. The Little Giants will start four seniors and a junior, including fifth-year senior Jeremy Morris at tackle (left). Other senior starters include Evan Isaacs, Skip Tokar, and Craig Morrison, along with junior Nick Durm at center. The offensive line must provide Hudson adequate time to throw the ball; punch a few holes for Wabash's running game to get going; and avoid penalties that have halted drives in recent weeks.
DePauw is much younger on the offensive line, and Wabash comes in having made 22 sacks on the year. But the combination of Spud Dick's mobility and a short-drop passing game has been effective; the Tigers have given up just five sacks all year. For Wabash to limit DePauw's passing game, the play of linebackers Matt Kraft, Bryan Watson, and C.J. Gum is critical.
With such explosive offensive weapons on both sides of the field, the defenses will have their hands full. Both schools boast enough veteran defensive players to balance youthful emotions in a packed stadium with a boisterous crowd. And keep in mind that a year ago it was DePauw freshman Steve Valdiserri who had two interceptions that were game-changers.
DePauw's pass rush could be key in this game. Defensive end Alex Fitch has six sacks this year to lead a squad that boasts 20 sacks in its first eight games. The ability for Wabash's O-line to protect Hudson's healing mid-section is critical.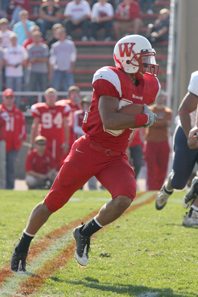 Monon Bell games have often turned on special teams plays in the past — muffed punts and kickoffs recovered by opposing teams, big returns, and last-second field goals. This year's starting kickers are near mirror images: DePauw kicker Jordan Havercamp has hit 6-of-9 field goals and 24-of-27 extra points, while Wabash's Spencer Whitehead is 6-of-10 on field goals and 46-of-49 on extra points.
In the return game, both schools have dangerous weapons. Most dangerous is, perhaps, Wabash's Wes Chamblee, who averages nearly 24 yards on kickoff returns and 17.6 yards on punt returns.
Nothing is ever very predictable in Monon Bell games. But with clear skies, a dry field, sunshine, and warm temperatures predicted — and two of the country's best offenses on the field — look for plenty of points to be scored.
And this one might just come down to the defense, and which unit can make the big stop at the critical point in the game.
Still looking for an advantage? Think about talking to one of Wabash's seniors about the sour taste left in their mouths after last year's game. You just might find the Wabash edge.