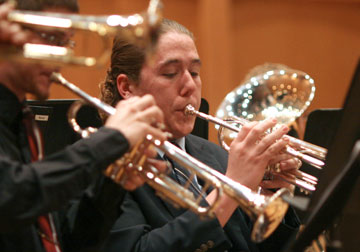 The Wabash College Woodwind and Brass Ensembles and Jazz Band will present a fall concert at 8 p.m. Wednesday, November 11, in Salter Concert Hall in the Fine Arts Center.
The Woodwind Ensemble, under the director of Vanessa Rogers, Assistant Professor of Music, will perform, Two Minuets by Georg Philip Telemann; Rondo from Trio in C., Op. 1 by Benedetto Carulli; and Eleanor Rigby by John Lennon and Paul McCartney.
The Brass Ensemble, under the direction of Peter Hulen, Assistant Professor of Music, will perform, Three New England Hymns, arranged by Robert King; Blendon by Andrew Law; Federal Street by James Hewitt; Chester by William Billings; two selections for brass ensemble, Concerto Grosso No. 8-Allegro by Arcangelo Corelli and March from Judas Maccabaeus by George Frideric Handel; Music for the Funeral of Queen Mary II by Henry Purcell; Music for the Royal Fireworks by George Frideric Handel; and The Entertainer by Scott Joplin.
The Jazz Band, under the direction of Steve Robinett, will perform Freddie Freeloader by Miles Davis; The Girl from Ipanema by Antonio Carlos Jobim; Summertime a la Mode by Steve Robinett; Cantaloupe Island by Herbie Hancock; and Just Friends by John Klenner and Sam Lewis. All arrangements are by Steve Robinett.
Admission to the concert is free. The public is cordially invited.