Senior Day is a time for Moms and Dads and a little bit of reflection. All of that happened Saturday during Wabash's Senior Day win over Hiram, 41-0. But for one senior it meant a little more, perhaps, than all of the others.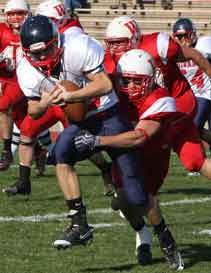 Daniel Eddelman, a senior safety from Columbus, Indiana, missed all of his junior year due to a torn ACL and played little his sophomore year. But he has been a key contributor in the secondary this season.
"It's nice to come out here and it means a lot more having gone through all that," the Columbus North High School graduate said. "It's good to soak it all in and cap off the season. I made it through a whole season and today is special with this being the last guaranteed game on our home field. It's definitely meant a lot to me."
The day to honor seniors was celebrated by underclassmen. All six Wabash touchdowns were scored by underclassmen against the winless Terriers. Sophomore Jonathan Horn opened things up fast with a 17-yard scoring catch. Junior Wes Chamblee was back after missing last week with an injury and scored on a 14-yard run.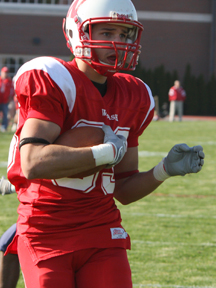 Sophomore Brady Young had 19- and 7-yard pass receptions for a touchdowns in the second quarter. Those were sandwiched around junior Derrick Yoder's four-yard scoring run. Wabash led 34-0 at halftime with most of the second half taken over by underclassmen.
There were two big second half plays of note. Freshman running back Nathan Walters had a two-yard score with four minutes to play. And another freshman had a break-a-way run for 76 yards. Derek Rowe came up the middle of the Hiram defense but was caught before he reached the end zone. That drive ended with a missed field goal.
Senior Matt Hudson had a quietly efficient day hitting on 13-of-17 passes for 186 yards and three touchdowns. The senior-dominated offensive line helped open holes which led to 244 yards rushing.
"We've got 17 seniors who have been a part of a lot of wins here and a lot of them have been starters since they were sophomores," Coach Erik Raeburn said. "They've played in a ton of games and they've made a huge impact on our football program for sure."
Junior Jake Martin led the Little Giant defense with eight tackles, but it was seniors Eddelman, Chris Schweigel, and Bryan Watson with six apiece keying the Little Giants.
Wabash dominated the numbers as the score would indicate. The Little Giants booked 244 rushing yards compared to 32 for Hiram. Total yardage was a lopsided 430-148 edge for Wabash.
If there was a troublesome statistic for Raeburn, though, it was the 10 penalties called on Wabash for more than 100 yards.
"I thought we played better, particularly in the first half, compared to what we did a week ago (at Oberlin)," Raeburn said. "But obviously we had a ton of penalties. I don't know what else to do. We have been on them about concentration and we just haven't been disciplined these last several weeks, that's for sure. Hopefully, we'll cut them down next week."
For the seniors on this team it's a chance to 'Bring Back the Bell" which has resided in Greencastle the past two years. But it's also capping the athletic career for a class which has reached the playoffs in the past two years, won back-to-back NCAC championships, and still has playoff hopes for 2009.
But for some, it's special just to compete.
"I'm just excited to be out there and I'm going to give it everything," Eddelman said of the Bell Game. "I'm considering every day my last chance because I know how simply and how quickly you can have it all taken away. I'm considering it my last hurrah. After 15-16 years of playing football, I'm just excited to go out there."
Photos by Jim Amidon. Upper right, Eddelman in on a stop. At right, Young on one of his two scores.
Game Stats