The Wabash basketball team, with two consecutive trips to the North Coast Athletic Conference Men's Basketball Tournament championship game, have been picked to finish third in the 2009-2010 league standings by the conference coaches. The coaches poll was released earlier today by the league office.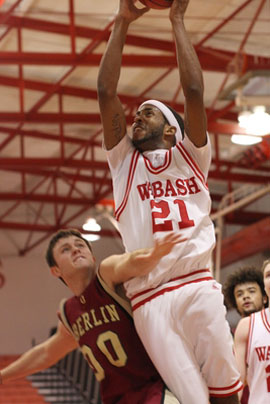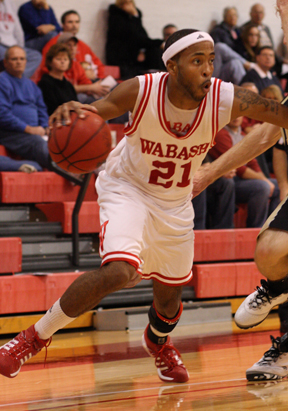 Wabash received 78 total points in the poll, trailing first place Wooster (99) and second place Ohio Wesleyan (79). Wittenberg picked up 74 total points in fourth place, while Hiram (65), Allegheny (50), Kenyon (42), Denison (31), Earlham (21), and Oberlin (11) completed the rankings.
The Little Giants rebounded from a mid-season slump to win six of their final seven games on the way to a 14-13 record. Wabash tied for sixth place in the final NCAC standings with a conference record of 7-9.
Thee All-NCAC players return to the starting lineup for the Little Giants this season. Junior Wes Smith (left) led Wabash in scoring with a 16.8 points-per-game average. He scored a career-high 41 points against Hanover College and finished fifth in the league in scoring to earn First Team All-NCAC honors. Aaron Brock missed the last six games of the season with elbow injuries, but still managed to score 13.6 points and grab 5.9 rebounds a contest. Finally healthy heading into his senior season, Brock was an Honorable Mention All-NCAC selection last season.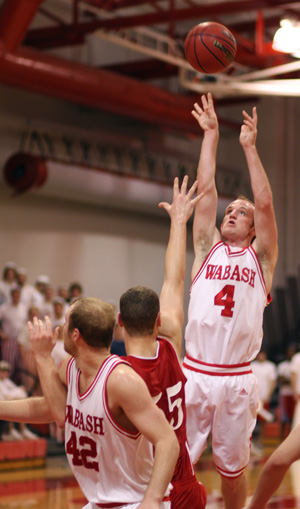 Senior Chase Haltom (right) also returns for the Little Giants after garnering Honorable Mention All-NCAC honors last year. The Little Giant sharpshooter averaged 11.9 points per game while hitting 71 three-pointers with a 42.3 shooting percentage from beyond the arc. Haltom was third in the NCAC in three-point baskets per game and seventh in three-point shooting percentage.
Seven other returning lettermen join Smith, Brock, and Haltom. Juniors Andrew Gilman, Ben Burkett, and Dominique Thomas saw significant playing time throughout the 2008-09 season. Gilman played in all 27 games, averaging 4.5 points and 1.6 assists while earning 17 starts at guard. Burkett took over in the middle to replace Brock down the stretch. He averaged 5.9 points and 3.5 rebounds in 25 games with eight starts as a sophomore. Thomas played in 22 games, averaging 4 points a game.
Senior Rich Kavalauskas missed the first half of the 2008-09 season while studying abroad, but returned play in 16 games while averaging 1 point and 1.4 rebounds.
Sophomores Brian Shelbourne, Derek Bailey, Nick Curosh, and Aaron Zinnerman are back for their second season. Shelbourne spent the most time on the court as a freshman among the group, playing in 24 games with seven starts. He averaged 2 points and 2 assists. Bailey, a two-sport athlete who also plays on the Wabash baseball team, saw action in 25 games on the hardwood for the Little Giants. He averaged 4.7 points and 2 rebounds a game.
Curosh played in 22 games at center for Wabash as a rookie, finishing with an average of 1.5 points and 1.9 rebounds a game. Zinnerman averaged just under a half-point a game in 16 outings, but could see more playing time this season as a backup to Smith.
Junior Kenneth Taylor and sophomore Billy Powers look to add more scoring punch from the bench at the guard spot after each played in one game last year.
Five freshmen – Evan Johnson, Tyler Whittington, Jordan Surenkamp, Jack Gruse, Stephen Honn, and Colten Craigin – join the Wabash squad this season.
The Little Giants open the 2009-2010 season Tuesday, November 17 at 7 p.m. at Marian University in Indianapolis.
For more information see: