The Wabash cross country team was picked to finish second by the North Coast Athletic Conference coaches, and delivered on that selection Saturday with a solid team effort at the championship meet held in Delaware, Ohio.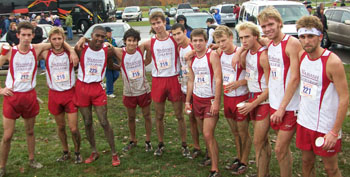 The finish was the best for the Little Giants since joining the NCAC in 1999. Wabash finished third in 2008, 2007, 2005, 2001, and 1999.
Junior Seth Einterz and sophomore Kevin McCarthy broke up the pack from Allegheny to take fourth and fifth place respectively, while fellow sophomore Donavan White returned from injury to score a 14th-place finish.
Einterz posted his fastest time of the season, finishing the 8000 meters in 26:07.7. He earned First Team All-NCAC recognition for the second consecutive year to become a three-time conference honoree. McCarthy was a fraction behind his teammate, crossing the finish line 26:08.00 to receive First Team All-NCAC honors, as well. The duo finished 14 seconds behind race winner Jeremie Parker from Allegheny, who won with a time of 25:53.0.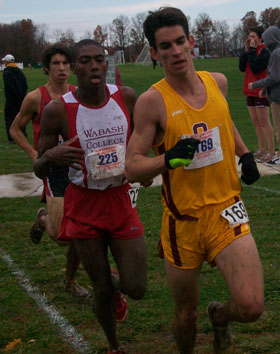 White missed much of the 2009 season with a foot injury, but worked throughout the fall to be able to return for the conference meet. He finished 27:13.6 to earn a spot on the All-NCAC Second Team.
Sophomore Kenny Farris took 31st place with a time of 27:56.5. Freshman Anton Crepinsek finished 34th with a time of 28:07.9 to complete the team scoring.
Grahm Johnson finished 35th (28:11.2). Colin Dunlap was 45th (28:32.8) with Micah Milliman finishing 50th (28:43.9). Michael Gough posted a time of 28:53.7 to finish 54th. Justin Allen was 56th (28:57.3). Brian David crossed the line in 71st place (29:26.2). Sam Prellwetz finished 89th (30:23.0)
Wabash scored a total of 82 points, edging Oberlin's third place total of 85 points. Allegheny won the men's title for the sixth consecutive season with 25 points. Ohio Wesleyan was fourth (103 points). Denison (104), Kenyon (161), Wooster (189), Wittenberg (218), Earlham (264), and Hiram (283) completed the team scoring.
The Little Giants are off until November 14 when they will compete at the NCAA Division III Great Lakes Regional at the Gibson Family Cross Country Circuit in Terre Haute, Indiana.
Photos - (top right) The Wabash cross country after its second place finish at the 2009 NCAC Men's Cross Country Championship.
(Bottom left) Sophomore Donavan White battles an Oberlin runner near the end of the race. White and the rest of the Little Giants defeated Oberlin to finish second in the final team scoring.
Photos courtesy of Michael Richmond.
Game Stats