Belton Debut Knocks Wind from Wooster
by Howard W. Hewitt • October 24, 2009

Share:
WOOSTER, Ohio – Freshman quarterback Chase Belton made his first start Saturday and quickly learned opposing defenses struggle to contain Kody LeMond. The native Buckeye quarterback hit LeMond with four scoring passes to lead Wabash to a key NCAC win over Wooster, 37-27.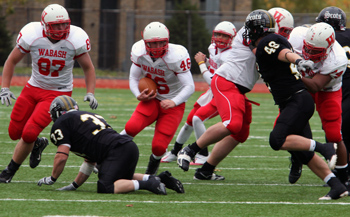 The win keeps Wabash's playoff hopes alive at 6-1 with a road trip next week to Oberlin. Wabash closes NCAC play hosting Hiram. Wooster, 4-3, suffered its first conference loss and still must travel to Wittenberg.
View photos from the Little Giants' victory here, here, here and here.
The Little Giants bounced back after last week's loss to Witt, several key players battling flu, and a second straight week without quarterback Matt Hudson. Belton played like a veteran hitting 18-of-31 passes for 283 yards, four touchdowns, and no interceptions. He also had 25 yards rushing.
"We've had a lot of adversity and to go on the road and beat a team like Wooster, with such an explosive quarterback; I was really proud how our guys got after it and played hard," Coach Erik Raeburn said.
"Chase did a great job and played really hard," Raeburn said. "He came through for us big time."
Spencer Whitehead got Wabash started with a 34-yard field goal but Wooster responded with an Austin Holter 47-yard pass to Luke McCann.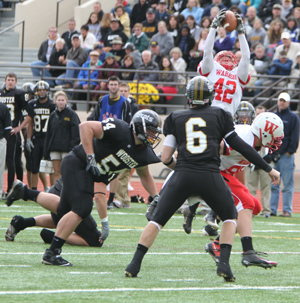 Defensive end Kenny Coggins helped turn the tide in the second period picking off Austin Holter's short pass and returning it nine yards for Wabash, 10-7. Wooster came back with a blocked punt in the end zone, 14-10, then Belton and LeMond went to work.
The first connection was a beauty when LeMond broke 10 yards free of his defender and Belton hit him in stride for a 53-yard score, 17-14. Wabash took momentum to the lockers.
"Oh my, I just thought to myself 'don't overthrow him, don't overthrow him,' " Belton said of the big play. "Coach called a perfect play. I saw he was wide open. I just threw it."
Getting it to LeMond worked well for the freshman in the second half. The duo hooked up for 14 and 17 yards in the third period to jump to a 31-14 lead. Wooster scored twice in the final period in a frantic comeback effort, but that was sandwiched around a fourth LeMond score, that one from 30 yards out.
LeMond had a monster game with 10 catches for 197 yards and four scores. LeMond has reached 2,084 yards in 23 games, passing 2,000 yards quicker than any Wabash receiver. His big day moved him to fifth on Wabash's all-time reception list with 25.
Belton noted how lucky a freshman quarterback is to have LeMond as a target. "It's great to have such a great receiver," Belton said. "You can just throw it in the vicinity and he'll come down with it."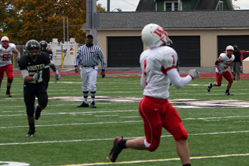 Raeburn knows LeMond will deliver when the Little Giants need a big play. "I just feel like any time we need a play he's the guy that can dial it up," the coach said. "I think we're good at receiver, but he's definitely a matchup problem for everybody."

Belton didn't know he would be throwing passes LeMond's way starting until Saturday morning. Raeburn said the decision came down to a full week of practice for the freshman quarterback. Josh Miracle battled the flu early this week and returned to practice Wednesday.

"I was nervous with all the butterflies as a freshman coming in to start but excited at the same time," Belton said. "I couldn't be happier. The wide receivers had my back. I didn't throw the prettiest balls but the wide receivers came in and just caught everything today."

The freshman was also quick to acknowledge the help he was getting on the sidelines. "Matt (Hudson) was on the sidelines with me today just telling me about reads, to look this way or that way, make sure to see the blitzing, make sure to see the safety shifting. It was the same with Josh telling me the reads. Both were just so helpful."

Another freshman made a big impact late. Kyle Stevens led Wabash with 59 yards rushing on 10 carries. The Little Giants rushed for 126 yards.

Another strong performance came from the kicking team. Chris Schweigel punted the ball five times for a 46.6-yard average. Whitehead missed his first extra point attempt of the year but had the first quarter field goal and a 61.9-yard average on seven kickoffs.

CJ Gum followed up last week's big game against Wittenberg with nine tackles. Bryan Watson had seven tackles and a sac. Matt Kraft and Matt Whyde had six stops apiece. Jake Martin had four stops and an interception.

Photos - (top right) Freshman Kyle Stevens powered his way to 59 yards on ten carries to lead the Wabash rushing attack.

Center - Kenny Coggins gets up to intercept Austin Holter's (No. 6) pass at the nine-yard line.

(Bottom left) Kody LeMond raced by the entire Wooster defense on his first touchdown catch, a 53-yard pass from freshman Chase Belton.




Results: Wabash 37, Wooster 27 Game Stats