The Art Department's exhibition of wood-carved sculpture by internationally-acclaimed Nigerian sculptor, Lamidi Fakeye, opened to a large and enthusiastic crowd Monday night.
See a photo album from the opening
here
.
The exhibit in the Eric Dean Gallery will remain open to the public through December 11.
Monday's opening reception also featured a performance by Wamidan, the College's world music ensemble, that included the donation of a rare African drum collection.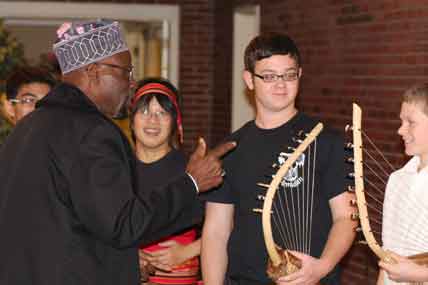 Fakeye is giving daily carving demonstrations from 12:15-1 p.m., Tuesday through Friday, October 27-30 in the Eric Dean Gallery.
Internationally recognized as one of Africa's greatest artists of modern times, Lamidi Fakeye's success is due largely to his keen ability to transcend competing identities.
A practicing Muslim, Lamidi is a fifth-generation Yoruba religious carver best known for his sculptures of Christian and Yoruba religious themes and cultural subjects.
His body of work encompasses six decades and addresses these multiple identities. At 81 years of age, he is still active and carves daily.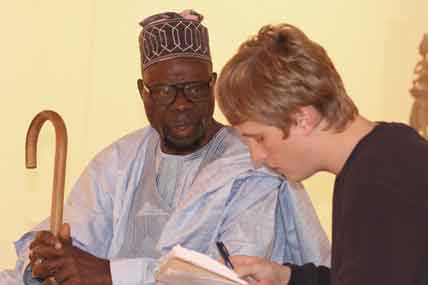 In addition, there will be two gallery talks.
On Tuesday, November 3, Wabash Assistant Professor of Art, Elizabeth Morton, will give a talk on "Living Tradition?: Yoruba Culture and the Art of Lamidi Fakeye."
On Monday, November 9, Western Michigan University professor, Bruce Haight, will give a talk on "Lamidi Fakeye Man of Paraodox, An Eucemenical Muslim Sculptor Who Carves Christian Themes."
Both talks begin at 12:15 p.m. and take place in the Eric Dean Gallery. They are free and open to the public.

The Eric Dean Gallery is located on the south end of the Fine Arts Center. Gallery hours are Monday through Friday from 9 a.m. to 5 p.m. and on Saturday from 10 a.m. to 2 p.m. The gallery is free and open to the public.