Indiana students wishing to apply to Wabash College for Fall 2010 admission and be a part of the Class of 2014 can do so this week without paying an application fee. Wabash is joining 37 other Indiana colleges this week in waiving the fee to apply.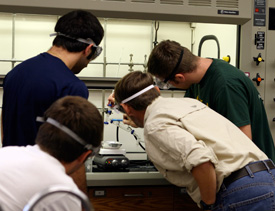 The $40 application fee is being waived as part of an Indiana Commission of Higher Education initiative to encourage more Indiana high school seniors to apply for college.
Wabash offers numerous opportunities for students to
visit campus
. There are scholarship opportunities tied to participation in some of those visitation days. Official Fall Visit days are scheduled for October 23 and December 4. But individual visits can be scheduled at any time by contacting the Admissions staff.
One of the fall's biggest visit days is the Top Ten Scholarship Day November. 6. Students in the Top 10 percent of their high school class can qualify for up to $17,500 in annual financial support. See more and a video about Top Ten Day
here
.
Wabash's early application deadline is December 1 with decisions sent out Dec. 22. The normal application deadline is Jan. 15.
The fee waiver applies to this week only. To have your application fee waived, enter 'College Go Week' in the fee waiver field on the final page of the application.
The statewide initiative is to encourage more Indiana residents to earn a college degree. The program is supported by the Indiana Commission for Higher Education, Indiana Department of Education, Indiana Department of Workforce Development and State Student Assistance Commission of Indiana. It also is supported by USA Funds Inc. and the Lumina Foundation for Education.