The stage is set again, as it has been for a number of years in the NCAC, for a Wabash-Wittenberg showdown. The Little Giants took care of business at home Saturday, defeating Washington University, 31-12. Witt and 'Bash will square off as 5-0 teams next Saturday at Little Giant Stadium.
By no means was it a dominating performance, beyond statistically, but Wabash fought through some self-inflicted difficulties to secure the win. One interception, two fumbles, and a few mental miscues made it a tougher-than-perhaps-expected afternoon.
See photo albums
here , here, here, and here
. Saturday was also Family Day, a chance for moms and dads to come visit their sons on the Crawfordsville campus. See photos
here
.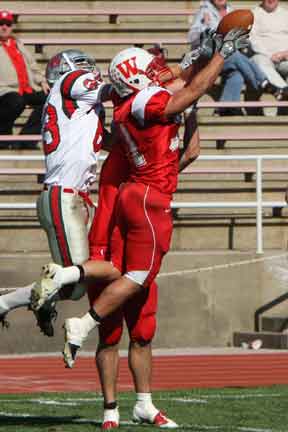 "We're happy to get the win," Coach Erik Raeburn said. "But obviously we felt like we made some mistakes and we weren't completely satisfied with how we played. But we'll take it."
Wes Chamblee had huge numbers for the second straight week. He caught scoring passes of 17 and 14 yards from Matt Hudson to turn a 17-12 game into the final.
"We feel like we have a great quarterback in Matt and he does a great job with the offense and he had a real good game today," Raeburn said. "Wes is a super explosive guy and he's done a great job all season coming up with a big play to spark us."
Chamblee caught 13 Hudson passes for 142 yards and the two scores. He added another 69 yards on kick returns and two on a punt return for 213 all-purpose yards.
"We definitely had a slower start than we would have liked but I felt like in the second half we got done what we needed to do," the junior wide out said.
He credited Hudson for his recent success and gave the quarterback plaudits for 64 yards rushing. "It's due to Hudson," Chamblee said of his success. "He was making great reads and throwing the ball nice.
"Actually everybody makes fun of him for his running, and says he slow but he showed some speed today. He did a great job."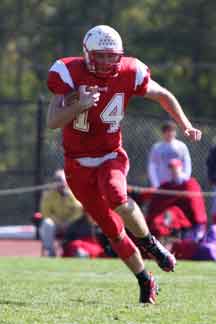 Hudson had 64 yards on five carries and one long run called back because of a penalty. Tommy Mambourg had 76 yards for Wabash, the first time this season he was held under 100. Still the combined efforts gave the Little Giants 143 yards running to Washington's 54. Kody LeMond hauled in eight passes for 98 yards to complement Chamblee's effort. The Little Giants rolled up 335 yards through the air to Washington's 272.
Wabash went ahead 17-6 to open the third quarter on a Brady Young 29 yard reception, but then a defensive breakdown allowed Tom Gulyas to catch a Steve Sherman pass for a 73-yard score, 17-12.
Wabash responded with Chamblee's two scores to put the game away.
"I feel like we have a lot of room to improve yet," said defensive back Addrian Frederick, who had four tackles and a fumble recovery. "We had a couple of mental busts in the first half that hurt us a little bit. I thought we came out a lot better in the second half, but there's still a lot of room to improve."
CJ Gum had a big game to spark the defensive effort. The linebacker recorded 10 stops. Bryan Watson added 9 tackles, three of those went for a loss. Matt Kraft and Blake Powell each had five tackles. Jake Martin added an interception.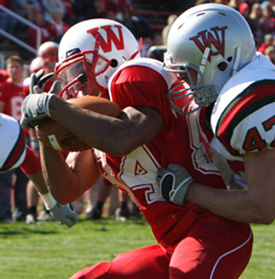 It wasn't long after this one was over the Little Giants were willing to admit the big one is looming.
"The conference has come down to us and Wittenberg," Raeburn acknowledged "That's the history. We know it will be a tough ball game. It was a tough one last year. We were lucky to win over there and hopefully we'll play better next Saturday."
Wabash won last year in Springfield on a Spencer Whitehead field goal.
Chamblee acknowledged the game is always a fight. "We have a tough opponent coming up," he said. "They have a tough defense and a good offense. They have a lot of guys returning on that team so we're definitely going to have a battle."
In photos: Top left, Adrian Frederick and Dan Ryan Wood knock down a pass. At center right, Matt Hudson taking it downfield. And bottom left, Wes Chamblee catches a Hudson pass in heavy traffic for the final score.
Results: Wabash 31, Wash. Univ. - St. Louis 12
Game Stats