The entire Wabash community is invited to attend the first ever "Meal on The Mall" on October 11 from 3-6 p.m. at Wabash College. Each fraternity, along with the Dean's Office and Career Services, will be cooking a dish to share with the community for the benefit the Boys and Girls Club of Montgomery County.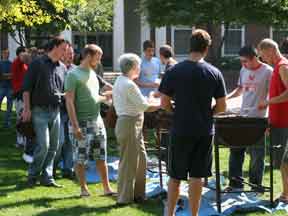 The event will take place on the College's Mall, and Bon Appetit will provide drinks, napkins, and utensils.
"We are extremely excited for the chance to bring the community and campus together for this charitable event," said Sphinx Club President Will Hoffman. "It is a simple idea that will hopefully turn into a fall tradition on the campus of Wabash."
Come out to see what the fraternity cooks are able to whip up for this charitable cause. Taste as many dishes as you would like and vote for your favorite one.
Don't miss Beta Theta Pi's favorite meal of honey mustard chicken or the Schroeder Career Center staff's homemade chili.
Admission is $5 per person, with a maximum of $20 per family. Tickets will be available on the mall the day of the event. Students, faculty, alumni, and community members are all welcome to attend along with their families.
"Community is one of the cornerstones of the Wabash ethos, and no event epitomizes the Wabash spirit more than the conviviality shared among friends, brothers, community members and faculty during a meal," said Sphinx Club member Elliott Allen.
In the event of poor weather, the meal will be served in Knowling Fieldhouse.