It was cold, it was windy, and it was damp. And perhaps never before has the Wabash College campus been draped in so much pink.
None of that mattered to the more than 250 people who attended the first ever Montgomery County Making Strides Against Breast Cancer Walk hosted by Wabash College on WABASH Day. Organized by the American Cancer Society's Lafayette office and local volunteers, the five-kilometer walk started and finished at Byron P. Little Giant Stadium. See pictures of the event here.
Check links at the right for reports and photos from WABASH DAY around the country.
The WABASH Day event coordinator, Jim Amidon '87, was helped by about a dozen members of Theta Delta Chi fraternity, who came Friday night to set up, and returned on a chilly Saturday morning to help organizers execute and clean up after the event.
"It was really terrific that the Theta Delts came out in pretty miserable conditions to help us pull off the event," said Amidon. "With the football team on the road, most guys chose to leave campus for the weekend, but the Theta Delts were there until the last tent stake was pulled and all the garbage hauled out."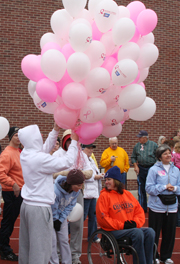 The event was a huge success, particularly considering it was an inaugural effort by the local ACS crew. Over 20 teams, made up largely of women, raised more than $32,000 to raise awareness of breast cancer, advocate regular mammograms, and fight for more research in the disease that strikes one in every eight women.
"The Wabash guys were just awesome," said ACS representative Megan Holmes. "They did what ever we asked them to do — from blowing up balloons to cleaning up trash to helping us take down our huge tent.
"They were amazing."
Tents, tables, and chairs were set up Friday evening. Local volunteers began showing up at the stadium shortly after 6 a.m. Saturday morning. Registration began at 9 a.m. and the 5-K walk, which snaked through the Wabash campus, out into town, and back through campus, started at 10 a.m.
WABASH Day volunteers did a little of everything.
"We ran errands, staffed water stands, cleaned up trash, and blew up balloons," Amidon said. "It was particularly cool to watch the Theta Delts with hundreds of pink and white balloons walking through the crowd handing them out for the big balloon launch at the beginning of the walk. The participants and organizers were clearly touched by the WABASH guys who came out to work the event."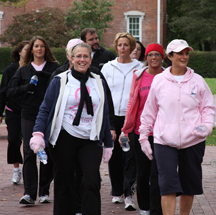 Crawfordsville Mayor Charlie Coons made a proclamation, local attorney and City Council Member Heather Perkins offered greetings, and cancer survivor Stephanie Poole talked about her battle to kick off the event.
"This was definitely different than most WABASH Day events," added Amidon. "When we were approached by the ACS about hosting the Making Strides Walk, we were able to lock in October 3 so that it could be our signature local WABASH Day event. Now we're hoping to make it an annual tradition."
Members of Theta Delta Chi who joined Amidon in the WABASH Day event included Michael Hodge, Michael Wittman, Jordan Ferguson, Joe Granger, Matt Meyer, Jake Moore, Chris Zabriskie, and Bill Birch.