MEADVILLE, Pa. – Wes Chamblee's 86-yard punt return ignited a 28-point first half here Saturday propelling the Little Giants to the 600th victory in school history, 37-3. Wabash (4-0) joins Notre Dame as the only Indiana college, any division, with 600 or more wins.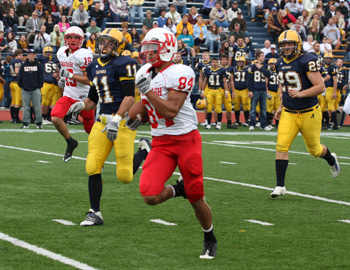 Allegheny (3-1) had allowed just 13 points prior to the Little Giants Homecoming visit. But after a mistake-filled first quarter, the Wabash offense was too high-powered for the Gators.
The landmark victory was Wabash's 600th in 123 seasons, second in Indiana only to Notre Dame's 831.
"I told our guys they're in good company," Coach Erik Raeburn said. "If you have 600 wins as a football program, that's a lot of good football players for a long time. I think our guys are proud to be part of the 600th win and be part of a program with that kind of tradition."
The players realize they've only been involved in a handful of those wins up to Matt Hudson's 40 or more, but still recognized the significance of the accomplishment. 'It's pretty cool to be the second school in Indiana and only the sixth school in all of Division III to reach 600," Hudson said.
"It's cool being a part of it because of the tradition of Wabash," senior defensive end Matt Whyde echoed. "That's what we all came here to play for and we're really proud to represent that and represent everybody else who's played before us."
Head Coach Erik Raeburn and senior co-captain Bryan Watson discuss Wabash football tradition.
It was anything but easy early with turnovers and interceptions but again it was the Wabash speed that turned the game around. Wes Chamblee took a Gator punt at the 14-yard line, ran right and then reversed field to find an opening. He cut again at midfield to find open field and a foot race to the end zone.
"We were struggling a little bit on offense then we got the big punt return so that was the spark we needed and it got us going on offense," Raeburn said.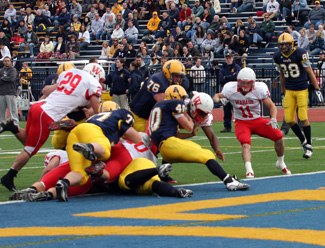 Allegheny got its only score of the game shortly after on Ryan Zipf's 40-yard field goal but Wabash was about to explode. Hudson scored to open the second period on a two-yard keeper. Kody LeMond then out-leaped a defender, and stayed in bounds, for another spectacular score that covered 41 yards.
Tommy Mambourg caught a nine-yard Hudson pass to close the first half, 28-3. Mambourg rushed for 136 yards. The junior has topped 100 yards in each Wabash victory.
Hudson had an up and down performance with 394 yards passing on 25 of 39 attempts and two rushing touchdowns. But, the senior quarterback also threw two interceptions.
"We didn't play very well today to tell you the truth, we only put up 28 points on offense," Hudson said. "I'm happy with the win but, only scoring 37 points, I could be a lot happier. "We left a lot of points on the table."
The Little Giants added a team safety at the goal line after the offense failed to punch one in midway through the third period. The final score came on another Hudson run with 13:05 to play.
"I thought last week we played really well but Allegheny is physical on defense and they do a good job," Raeburn said. "They're pretty good at creating take always but we're going to have to protect the football better on offense."
The defense did not allow a touchdown for the first time this year and limited the Gators to 43 yards rushing and 281 yards of total offense. The Little Giants topped 500 yards of total offense in contrast.
"We felt pretty good about today," Whyde said. "We found our backs up against the wall a few times but I think we rose to the challenge. It was kind of fun because, unlike the past few weeks, the game was in question for a while. We got to go out there and play some significant time today because the game wasn't decided."
Chamblee and LeMond had monster days in Meadville. Chamblee led the Little Giants with nine catches for 153 yards. His lone score came on the punt return, but he totaled 272 yards of all purpose offense. LeMond had 7 catches for 124 yards and a score. Jonathan Horn had a nice day with five catches and 88 yards.
Matt Kraft, Daniel Edelman, Denote Sing field, Dan Ryan Wood, Bryan Watson and Adrian Frederick led the defensive effort. Wood and Frederick had interceptions.
Wabash is home Saturday hosting Washington University - St. Louis.
Photos - (top right) - This 86-yard punt return by Wes Chamblee broke open the scoring for the Little Giants in their 37-3 win at Allegheny Saturday afternoon.
(Bottom left) - Matt Kraft and rest of the Wabash defense wrap up the Gators' Eric Mastrogiacomo for a safety in the third quarter.