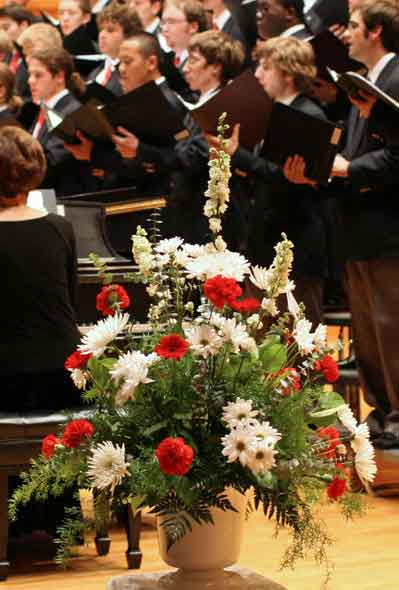 Singing the sixth-century hymn "Be Thou My Vision" alongside flowers on the Salter Hall stage from the Ristine family, the Wabash Glee Club paid tribute at Saturday's Homecoming Concert to Glee Club member and former Indiana Lieutenant Governor Dick Ristine '41.

Glee Club Director Richard Bowen recalled Ristine's singing on the same stage two years earlier during the 2007 Glee Club Reunion, and how the hymn sung in his honor Saturday night was so fitting Ristine's life. The group had performed the piece two weeks ago at a memorial service for Ristine in the College Chapel

Bowen also commended the 48-man-strong Glee Club for being ready to perform so well and so quickly this year, and the Ristine tribute was one of seven numbers performed at Saturday's concert.

The evening began with a stirring version of "The Star-Spangled Banner" sung from the Salter Hall Lobby. The Wabash College Philharmonia—seniors Forrest Craig, Patrick Griffith, and Jason Allen, along with Stephen Maynard '11—offered a rousing and entertaining rendition of Aram Khachaturian's "Sabre Dance," and Glee Club alumni joined students onstage for the singing of Alma Mater.

See a photo album from the event
here
and
here
.