Kappa Sigma alumni and current students celebrated the new fraternity house Saturday morning with a dedication ceremony. A big crowd was on hand to see the completion of Wabash College's Fraternity Partnership program.
See a photo album from the program here.
President Patrick White welcomed the Kappa Sig graduates back to campus and thanked them for their continued support and love of their College. Bob Sorenson, Kappa Sig area representative, gave brief remarks and presented two citations to the chapter for the achievement.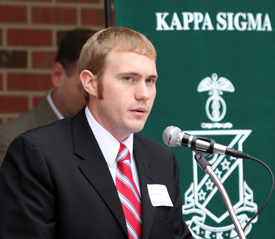 Aaron Bonar '10, house president thanked those who made the new house possible. Dean of Students Michael Raters urged the students to take great care of their new home.
"We've been trying to re-engage alumni through reunions and cookouts, but this was the first big gathering that seemed to draw substantial, cross generational alumni support," Bonar said after the ceremony. "Brothers from the 60s, 70s, 80s, 90s, and even 2000s came out in force to show their pride in the Alpha-Pi chapter. This proves to me that, thankful as we are for the new house, brotherhood transcends a living unit. I think I speak for the house when I say that we hope this is a new beginning for alumni relations, Wabash relations, and our brotherhood in general.
Joe Smith '51 talked about the founding of the chapter and significant developments through the years for the Kappa Sigma Fraternity. He noted he has been a Kappa Sig for 62 years.
Many of the speakers took time to note the contributions of James M. Kirtley '32. The fraternity's chapter room was named in his honor.
Mark Maddox '83 acted as master of ceremonies and was actively involved in fund raising and plans for the new house. The dedication ceremony was a culmination of a lot of hard work for Kappa Sig alums.
"Initially today makes me think about a lot of the Kappa Sigs who would have enjoyed this day as much as I'm enjoying it," Maddox said. "There are guys like Dr. James Kirtley who we lost just a few years ago and some of the others who were so dedicated to this fraternity. Also we were not real big fans of the old house, it had really fallen into disrepair so to have this brand new house that current and future generations of students and alums are going to be able to enjoy is just a tremendous feeling for all of us."