Wabash turned Mud Hollow Field into a shooting gallery Wednesday afternoon, peppering Anderson's goalkeeper with 14 shots on goal in the Little Giants' 4-0 win.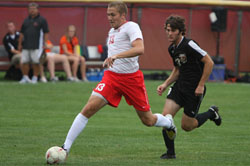 The Little Giants recorded 29 total shots in the contest to eight by the visiting Ravens. Wabash's crisp passing throughout the match kept Anderson on its heels while setting up several scoring opportunities. (View photos from the Little Giants' match here.)
The first goal came five minutes into play when Dylan Andrew lifted a ball over the Raven defense. Austin Jennings outraced the Anderson team and beat goalkeeper Jake Savage with a shot to the right side for his third goal of the season and a 1-0 Wabash lead. Fifteen minutes later Femi Oluyedun broke free on the left side of the box and appeared ready to put a shot on net when he was fouled from behind, setting up a penalty kick. Co-captain Mark Babcock drilled the shot home for his third goal of the season, giving Wabash the 2-0 lead.
Freshman Alex Lyon made it a 3-0 contest when he took a pass from Ian Kelly on the left side of the net near the end of the half after Allan Swan had worked the ball through the midfield zone. Lyon blasted the shot home for his first career goal, sending Wabash off the pitch with a 3-0 halftime lead.
Sophomore Phil Rosborough completed the scoring with his first career goal in the 68th minutes on a deflected ball to the right side of the box.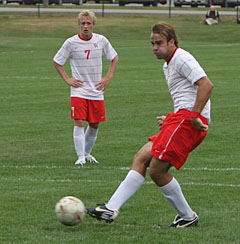 "Obviously we're extremely satisfied with the final result," Head Coach Roberto Giannini said. "Even more importantly we played every one of our field players, and I was extremely happy with the effort I saw from all 22 players tonight. We also got some extra rest for a very important home game Saturday against Denison."
Pat West started in goal for the Little Giants, but did not face a single shot from the Ravens. Matt Paul came on in the second half and turned aside two Anderson scoring chances.
Wabash improves to 4-3-1 with its second consecutive victory. The Little Giants return to North Coast Athletic Conference action with the Homecoming match at noon against the Big Red.
Photos - (top left) Austin Jennings on the way to his third goal of the season and the first of four Wabash goals in Wednesday night's win over Anderson.
(Bottom right) Mark Babcock drilled this penalty kick into the net after Femi Oluyedun was fouled inside the box in the first half.
Results: Wabash 4, Anderson 0
Game Stats