A unique collection of Wabash alumni will gather this weekend for a first time reunion to network and share with students their careers as lawyers. The legal lineup ranges from former President Bill Clinton's attorney David Kendall '66 to Indiana's Secretary of State, Solicitor General, law professors, and members of the Board of Trustees.
Wabash graduates who represent sports figures to lawyers who have argued cases before the United States Supreme Court will be on hand to share advice and stories from their careers. The program runs Friday afternoon through Saturday morning. More than 60 alums have registered for the weekend law reunion.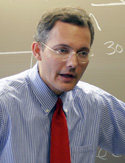 "The idea of a lawyers' reunion originated with Wabash lawyer alum Greg Castanias '87 as an opportunity for Wabash lawyers to network with one another, to enjoy Wabash fellowship, and to continue to serve current Wabash students who want to become lawyers," Professor and Attorney Scott Himsel '85 said.
"Jim Dimos took the lead in organizing the event along with Castanias, me, and the other lawyers on the NAWM Board. We're really excited to have a series of presentations planned that we think will be of interest not only to lawyers, but to the entire Wabash community - everything from sports law to arguing in the Supreme Court. This gives us a chance to showcase Wabash lawyer talent. Each lawyer on the schedule is an expert in his field. And most importantly from my point of view as prelaw advisor, it gives us lawyer alumni another chance to educate and network with current students who are considering a career in the law. Wabash at its best is about one generation helping another."
The lineup would be impressive even if the attorneys weren't all Wabash graduates. All sessions will be held in Hays 104 beginning at 12:30 Friday.
Friday
Session I - Getting in the Game - The Nuts and Bolts of Sports Law. This program provides an overview of the different areas of sports law and how these two Wabash men developed their sports law practices. 12:45 p.m. to 1:45 p.m.
Wesley A. Zirkle '98, Vice President and General Counsel, Just Marketing International; David L. Taylor '83, Jennings Taylor Wheeler & Haley

Session II - Web 2.0 and the Law (Ethics).
Lawyers are using social networking sites, blogs and other interactive media as forums for their thoughts on the law as well as tools for business development. This panel will discuss how to effectively use such sites and the ethical issues related to their use.
2:00 p.m. to 3:00 p.m.
Dennis M. Kennedy '80, Counsel, Business Leader, MasterCard Worldwide; Evan D. Brown '97, Hinshaw & Culbertson LLP; James Dimos '83, Frost Brown Todd LLC
Session III - Securities and Insecurities - What Just Happened and What May Happen Next. The Great Recession of 2008 has had an effect on all aspects of the economy, not the least of which was the stock market. This panel will discuss their thoughts on what has happened over the last eighteen months as well as how regulators and the courts may react going forward. 3:15 p.m. to 4:15 p.m.
Mark E. Maddox '83, Maddox Hargett & Caruso PC ; Todd Rokita '92, Indiana Secretary of State; Patrick K. Craine '94, Bracewell & Giuliani

Session IV - Playing The Big Room - Advocacy before the United States Supreme Court
- All members of this panel have had the opportunity to engage in advocacy before the United States Supreme Court. Each will share their thoughts and suggestions when it comes to appearing before the "Highest Court in the Land."
4:30 p.m. to 5:30 p.m.
Thomas M. Fisher '91, Solicitor General, Office of the Indiana Attorney General; Gregory A. Castanias '87, Jones Day; David E. Kendall '66, Williams & Connolly; Seamus P. Boyce '03, Church, Church, Hittle & Antrim
Saturday Morning
Now What? Thoughts on the Future of the Private Practice of Law - The panel will provide their thoughts regarding the future of the private practice of law from their representative perspectives: large national firm, regional firm, small firm, law school professor and in-house counsel. Afterwards, members of the panel will be available for networking opportunities with Wabash students and alumni. 9:00 a.m. to 10:45 a.m.

Prof. Scott D. Himsel '85,
Baker & Daniels LLP – Moderator; Nelson D. Alexander '90, Frost Brown Todd LLC;
Stephen S. Bowen '68
, Latham & Watkins;
Prof. Roger D. Billings '59
, Chase College of Law, Northern Kentucky University;
Eric M. Cavanaugh '76
, Associate General Counsel, Duke Energy Shared Services Inc.;
Robert W. Wright '87
, Dean-Webster & Wright LLP
In photos - top to bottom: Himsel, Dimos, Kendall, Bowen.