The National Association of Wabash Men holds its annual meeting on Saturday morning, September 26 in the Pioneer Chapel. While noted as a "business meeting," the Homecoming Alumni Chapel is a celebration — and this year honors Professor Melissa Butler and four esteemed alumni.
The Homecoming Alumni Chapel, which honors the Wabash spirit of long-time Trustee Byron P. Hollett, begins at 11:00 a.m. Saturday.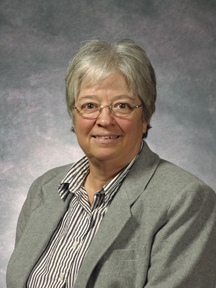 This year, the NAWM will honor Political Science Professor Melissa A. Butler for her more than three decades of excellence by naming her an Honorary Alumna in the Class of 1985.
Dr. Butler came to Wabash in 1976 to teach in the Political Science Department, and was the first woman granted tenure in the College's history. She has been an on-campus leader of international studies and immersion learning courses; won the McLain-McTurnan-Arnold Excellence in Teaching Award; and has chaired both her department and division during her time at Wabash.
Professor Butler becomes only the eighth woman to be named an Honorary Alumna of the College.
The Homecoming Alumni Chapel also provides the Board of Directors of the NAWM the opportunity to present Alumni Awards of Merit. This year's honorees are Dale L. Petrie '75, Theodore F. "Trey" Holland '71, and Roger D. Billings, Jr. '59.
Petrie will receive the Fredrick J. Urbaska Civic Service Award for his contributions to Crawfordsville and Montgomery County. Dale is president of the Crawfordsville School Board, the Lew Wallace Preservation Society Board, and the board at First Christian Church. He has been actively involved in the Character Counts program, and has chaired the Strawberry Festival Committee three times.
Holland will receive the Clarence A. Jackson Career Service Award for his work as a urologist and surgeon, and as past-president of the United States Golf Association. He's frequently been voted as one of Indianapolis' best urologists by Indianapolis Monthly magazine. Not only did he serve the USGA as its president, he served on nearly one-third of the USGA's committees and was chairman of the Rules of Golf Committee.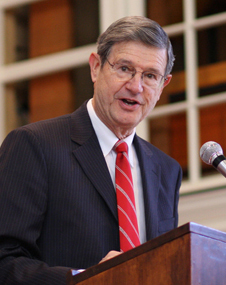 Billings will receive the Frank W. Misch Alumni Service Award for his contributions to the College. A professor of law at Northern Kentucky University, Billings served as president of the Board of Directors of the National Association of Wabash Men, and has served on the Board of Trustees since 1994. He is actively involved in student recruitment and fund-raising activities in the greater Cincinnati, Ohio area.
Additionally, the NAWM will name Thomas E. Topper '70 an Alumni Admissions Fellow (posthumously). Dr. Topper was a surgeon in Evansville, Indiana, and prior to his death served as president of the Board of Directors of the National Association of Wabash Men. He frequently hosted recruiting events and attended "W Nights" on behalf of the College.
Homecoming Alumni Chapel will feature remarks from NAWM President Mark Dewart, President Pat White, and a performance by the Wabash Glee Club. The event is open to the entire community.