You could call it a fast start.
Wabash College's Little Giants scored on offense and defense in the first 2:16 against the visiting Big Red of Denison to set the pace for their 2009 season opener. A balanced offensive attack overwhelmed the Granville, OH, visitors, 56-7.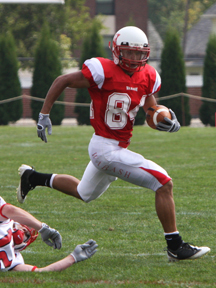 See photo albums here, here, here, here and here.
Wabash set the tone with its fast start and never looked back. A group of mostly underclassmen and several freshmen dominated the fourth quarter in time of possession and put a touchdown on the board.
Wes Chamblee scored the first of his three touchdowns with just two minutes off the clock when he caught Denison (1-1) by surprise with a 20-yard end-around run. Spencer Whitehead added the first of his eight extra point kicks for a 7-0 Little Giant lead.
Denison quarterback Braden Layer was chased on the Big Red's first play of the game and laid the ball on the ground. Matt Kraft, who missed all of last year when his father passed away during training camp, picked up the loose ball and returned it 26 yards for the score.
"The ball was just sitting there," Kraft said. "It's about as easy as it gets. I just picked it up and ran with it. It's been a long time coming. It was great. It's a storybook kind of thing isn't it? I enjoyed it but it's a team game and I enjoy celebrating with the guys."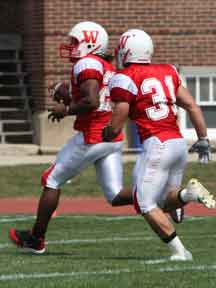 Celebrating got Kraft in a bit of hot water. He drew an unsportsmanlike penalty after his touchdown. "Coach had a couple words for me but coach (Jake) Gilbert is a defensive player too so I know deep down inside he can side with me. It's not too often you can pick the ball up and score."
Tommy Mambourg, starting for the injured Derrick Yoder, had a monster day at the tailback spot with 120 yards on 25 carries. He added the Little Giants' third score of the first quarter with a 19-yard run.
"It was the offensive line," the Munster, IN., junior said. "We have four guys back and a couple centers rotating; I give all the credit to them."
The second quarter was Wes Chamblee's time to shine. He caught a five-yard Matt Hudson pass for a score then picked up his second rushing touchdown with a 42-yard score, 35-0.
"I like those reverse plays," the South Bend junior said. "They're something we think we should get in a little more often. It was fun to get in on those reverses and run the ball for a change."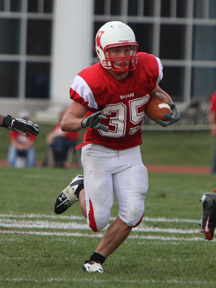 All of it added up to a fast start that had Coach Erik Raeburn quite pleased.
"I thought we got off to a good start which is important," the second-year coach said. "The guys like Matt Hudson, Kody LeMond, Wes Chamblee and some of those experienced offensive linemen like Jeremy Morris, Skip Tokar, Craig Morrison, Evan Isaacs and Chad Sorenson at tight end … all those veteran guys performed like we expected them to."
Denison got its only score of the game after a nice kickoff return starting the second half. Nick Krempasky scored on a 26-yard run for the Big Red's only visit to the end zone.
Wabash immediately responded with a Hudson to LeMond 35-yard score, 42-7. The final score by the starting offense was something of a reminder of last year's visit to Denison which served as Lemond's coming out party. Last year the Pendleton Heights native made a spectacular diving catch in the Denison end zone just before halftime. The pass was batted into the air and Lemond tipped the ball to himself for a touchdown.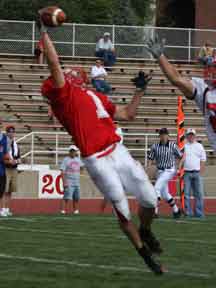 With 7:54 left in the third quarter Saturday, Lemond went high in the air and made a spectacular one-handed grab of a Hudson throw, 49-7. Lemond had seven catches for 126 yards.
Hudson had an efficient day with 254 yards on 16-of-27 passing with three touchdowns, and an interception.
The fourth quarter belonged largely to the underclassmen, including quite a few freshmen. That group added a touchdown with 6:28 left when freshman Kyle Stevens, a Delta High School graduate, ran in from two yards out.
The youngsters did a good job in the fourth quarter with an 11:07-3:53 time-of-possession advantage.
All of the game statistics reflected the final score. But none could have pleased Raeburn more than the balance. The Little Giants rushed for four more yards than they passed, 268-264. The total yardage was lopsided with the Little Giants accumulating 532 yards of offense to Denison's 139. Wabash had 25 first downs to Denison's six.
Senior Bryan Watson led the Little Giant defense with nine tackles, 1.5 sacks, and a pass breakup. Safety Jake Martin and linebacker Matt Kraft had five tackles each.
The Little Giants will be on the road Saturday for a 1 p.m. (EST) kickoff at the University of Chicago.
In photos, top to bottom: Wes Chamblee on his first touchdown run; Matt Kraft's fumble return for a touchdown; Tommy Mambourg on his way to 120 yards; LeMond's spectacular catch.
Results: Wabash 56, Denison 7
Game Stats