A memorial service for Richard O. "Dick" Ristine '41 will be held at 11:00 a.m. on Saturday, September 12 in the Pioneer Chapel on the campus of Wabash College.
Ristine, who died at his home in Leland, Michigan on June 20, represented Montgomery and Putnam counties in the Indiana State Senate from 1950 through 1960, and was then elected Lieutenant Governor. In 1964 he ran as the Republican candidate for governor.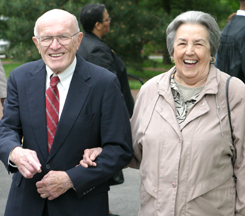 An attorney with Baker and Daniels and later in private practice in Crawfordsville, Ristine served as vice president of L.S. Ayres and Company before serving as executive vice president of Lilly Endowment Inc. He served as chairman of the Indiana Historical Society and the Indiana State Board of Mental Health.
He served Wabash College as an active member of the Board of Trustees for 35 years and continued his service as an Emeritus Trustee for another 15 years. He was the College's Treasurer, Director of Development, and Director of External Affairs before retiring in 1993.
Ristine was named a Sagamore of the Wabash by six Republican and four Democratic governors, and received honorary degrees from five Indiana colleges and universities.
The memorial service is open to the public, and will be officiated by Dr. Raymond Williams, Lafollette Distinguished Chair in the Humanities Emeritus at Wabash College.
Photo: Dick Ristine and his wife, Lou.