Early goals from Femi Oluyedun and Mark Babcock powered Wabash to a 3-1 season-opening soccer victory at Wheaton College in Illinois Tuesday evening. The Thunder entered the season ranked 23rd in the nation in the National Soccer Coaches Association of America/Adidas preseason poll.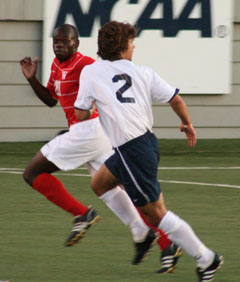 Oluyedun lifted a chip shot over the Thunder goalkeeper in the 11th minute of the match to put the Little Giants up 1-0. Nine minutes later Mark Babock drilled a one-timer off a set piece corner kick by Ian Kelly into the upper-right corner of the net to put Wabash up 2-0. Wheaton closed the gap to one goal with a score of its own in the 23rd minute.
Little Giant goalie Pat West kept the Thunder off the scoreboard in the second half. The sophomore faced a total of 21 shots, including 11 shots on goal for 10 saves to record his first win of the season.
Dylan Andrew added the final tally in the second half, beating the goalkeeper for an easy tap-in in the 79th minute.
"If beating the 23rd-ranked team in the nation and the national runner-up in 2006 3-1 at their home at night doesn't mean the Wabash soccer program isn't going somewhere, I don't know what else we need to do" an excited head coach Roberto Giannini said. "It was great. Femi scored the beautiful goal on a counter attack. Mark Babcock's goal on the corner kick was perfect. We controlled and defended well in the second half. Then we scored the final goal, and just missed a fourth when Allan Swan hit the post.
"The guys played great. It's a great start to our season. We've got to stay grounded, keep our focus. work hard. We are now convinced as a team that we can play with any team on our schedule. It's a great feeling to have."
Wheaton outshot the Little Giants 21-11, but Wabash put eight of its 11 attempts on net.
The Little Giants (1-0) will face Alma College in their home opener Saturday at noon at Mud Hollow Field.
Photo - Femi Oluyedun breaks away from the Wheaton defender to score the first goal of the season for the Little Giants. Photo by Susan Albrecht.
Results: Wabash 3, Wheaton 1
Game Stats