Wabash College Dean of Students Mike Raters has announced that Steven Barnes has been hired as the new head coach of the swimming and diving team.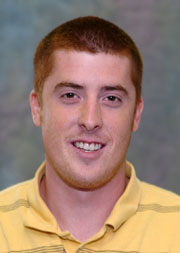 Barnes comes to Wabash after serving two seasons as the assistant coach of the Kalamazoo College men's and women's swimming program. He was named interim head coach from January through March of 2008 during head coach Kathy Milliken's maternity leave.
"Steve will be a tremendous addition to the Wabash coaching staff," Tom Bambrey, Director of Athletics, said. "His passion for recruiting student-athletes and to help them succeed was evident throughout the interview process."
A 2005 graduate of Ithaca College, Barnes was a four-time All-American and team MVP for the Bombers. He was named the 2002 Empire Eight Conference Swimmer and Rookie of the Year, was a 2005 ESPN The Magazine Academic All-America honoree, and was selected as the Ithaca College Athlete of the Year from 2002-2005. He earned Scholar All-America honors from the College Swimming Coaches Association of America (CSCAA) four consecutive years, and was a member of the Empire Eight All-Academic Team from 2002-2005. Barnes holds the Ithaca records in the 500-, 1000-, and 1650-yard freestyle races, and was part of the record-setting 800-yard freestyle relay team.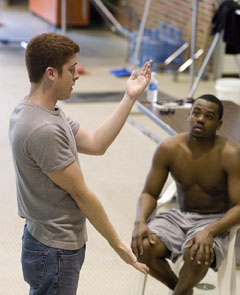 Barnes earned his master's degree in exercise science from Ithaca in 2006 while working as an assistant coach for the Bombers. He was responsible for dryland training and weightlifting programs for the team in addition to coordinating recruiting. He took the assistant coach position at Kalamazoo College in 2006, helping the Hornets set an NCAA record, 39 school records, 36 individual and relay conference titles, 17 conference records, 59 NCAA "B" cuts and 16 NCAA "A" cuts, and nine individual top-eight finishes at the at the NCAA Nationals. Barnes also ran the Kalamazoo student worker program for the Natatorium, managing the hiring, scheduling, and budgeting processes.
"I'm excited," Barnes said. "I have seen the Wabash teams over the past three years during my time at Kalamazoo. I know how competitive the Little Giants are and have an understanding of their great swimming tradition.
"Wabash provides a terrific opportunity for young men to get a great education and compete in a great swimming conference to swim. I am proud to be part of that now."
"Steve is awesome as a coach," Kalamazoo's Milliken said. "He's a self-starter, creative, and has been a huge part of our success. He's also an amazing recruiter, is very organized, and is great with technique on the deck."
Barnes will begin his duties on August 15.
Photos - (top right) Steven Barnes will take over as head swimming coach at Wabash this fall. Photo courtesy of Kalamazoo Sports Information.
(Bottom left) Barnes worked as an assistant and interim head coach at Kalamazoo prior to coming to Wabash. Photo by Keith Mumma and courtesy of Kalamazoo Sports Information.
Deck photos used on the main sports pages also by Keith Mumma and courtesy of Kalamazoo Sports Information.