MARTINSVILLE - For those Div. III football affectionados, the name Ryan Short might ring a bell.
He's the former wide receiver/tight end from Wabash College who tipped the Hail Mary pass from quarterback Jake Knott to teammate and roommate Kurt Casper in the 2001 Monon Bell game between Wabash and DePauw University. The play can still be viewed on YouTube.
"I still get chills when I watch it," Short said.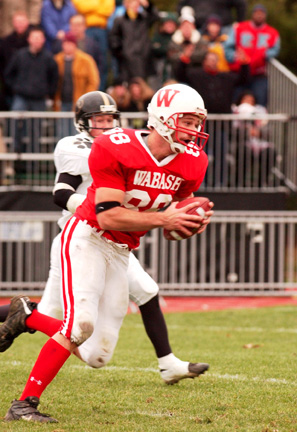 Short, whose name is all over the record books at Wabash, hopes to make a similar impact on the Martinsville High School football team as the new receivers and defensive backs coach.
He's got plenty of experience and knowledge to draw from for a receiving unit that lost its top two receivers but return several key defensive backs from a year ago.
He's the Little Giants' all-time leader in career receptions (243) and touchdowns (45) and was inducted into Wabash's athletic hall of fame in 2008. He was also named to the North Coast Athletic Conference All-Decade Team as part of the conference's 20th anniversary celebration.
"I hope the kids realize what an honor it is," Martinsville coach Fred Kutruff said of Short's induction. "That doesn't happen to many college football players."
But what he's most famous for the game-winning play in 2001. With 2.7 seconds left and the game tied at 21 after DePauw came from behind to tie it in the fourth quarter, Knott threw a 52-yard pass and Short, going for the ball at about the 6-yard line, tipped it behind him to Casper, who was in the corner of the end zone.
A year later, he helped the Little Giants tie the longtime series with DePauw by catching four touchdowns in the first half. Wabash went on to win 35-7.
Aside from owning the career receptions and touchdown records at Wabash, he's third in career receiving yards (2,773); second in receiving yards in one game (220 against Denison in 2000); third, fifth and sixth in single season receptions (77 in 2000, 73 in 2001 and sixth in 2002); and he set the record for the number of consecutive games with at least one catch (37).
"He's a hard worker who gets along great with the kids," Kutruff said.
He had a couple of connections to Martinsville before being hired on the football staff.
He graduated from Perry Meridian High School in 1999 with Martinsville defensive coordinator Brad Rose. And his quarterback at Wabash, Knott, played for Kutruff at Lafayette Jefferson High School.
Before coming to Martinsville, he coached at Avila University in Kansas City and Franklin College in Franklin, Ind.
"I think I bring energy, excitement," he said. "I try to translate that to the kids."
Now, he's a special education teacher's aide at the high school working on becoming a full-time teacher. He said he's excited to coach and teach at the high school because of the community's passion for the school's sports teams.
"The whole town loves their sports," he said, adding that he gets pumped up when he hears WCBK talking football or hearing from co-workers about the upcoming season.
He also played center on the men's basketball team at Wabash, serving as co-captain his junior and senior seasons. He averaged 7.7 points and 4.4 rebounds as a senior and 11.3 points and five rebounds as a junior.